News story
Hong Kong and UK sign MOU on investment promotion co-operation
Invest Hong Kong and the Department for International Trade have signed a Memorandum of Understanding (MOU) on investment promotion co-operation.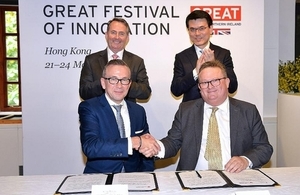 The MOU focusses on innovation and technology and other emerging sectors. It was signed today (Tuesday 24 March) by the Director-General of Investment Promotion at InvestHK, Mr Stephen Phillips, and the Director General, Trade and Investment, British Consulate-General Hong Kong, Mr Paul McComb.
The signing was made during the GREAT Festival of Innovation, in the presence of the Secretary for Commerce and Economic Development of Hong Kong, Mr Edward Yau, and the UK Secretary of State for International Trade, Dr Liam Fox.
Mr Yau said:
Hong Kong and the UK maintain strong and long-standing economic and investment ties.

The 2 places have been working closely in terms of foreign direct investment exchange, sharing a wide array of business opportunities in creative industries, financial services and innovation and technology, as well as business and professional services.
The MOU is another milestone in reinforcing our collaboration. The technology emphasis also reflects our increasing focus on innovation to further strengthen Hong Kong's economic development.
Dr Fox said:
The UK and Hong Kong have strong ties because of our shared history and our close people-to-people links. This is a great step forward in our relationship with InvestHK.
Getting our teams to work together to come up with innovative solutions that meet the challenges faced by small and medium enterprises seeking to set up in Hong Kong will make a huge difference to the number of companies investing in Hong Kong from the UK.
The MOU focuses on:
sharing of information and experiences in investment promotion
supporting each other's investment promotion events and programmes
strengthening collaboration in promoting inward investments
It also encourages the development of businesses with a technology focus, such as:
artificial intelligence
financial technology
health technology
biotechnology
smart city
clean technology
the creative sector
the experience economy
As at the end of 2016, the UK ranked eighth as a major source of inward direct investment into Hong Kong, with an IDI stock of US$36.4 billion.
As at 1 June 2017, British companies had established 122 regional headquarters, 221 regional offices and 332 local offices in Hong Kong. To date, InvestHK has signed MOUs with 14 overseas investment promotion agencies.
Published 24 March 2018