World news story
Homeland Security: The Role of Diplomacy
The Homeland Security Summit took place in Amman on 29 September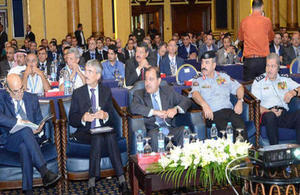 The British Ambassador Peter Millett addressed the Homeland Security Summit in Amman on 29 September on the role of diplomacy in supporting homeland security. He cited three recent examples where the UK's domestic security was engaged with the work of Embassies: military action against ISIL in Iraq, the arrest of a drug smuggler in Spain and the return of Abu Qatada to face justice in Jordan.
These cases show that the work of the Home Office and the Foreign Office are inextricably linked. Across the board: Counter-terrorism, criminal activity, drug and people trafficking, migration, environmental issues; no country can solve these problems by itself. International cooperation is vital.
The 3 main pillars of a broad strategy are:
Early warning: the need to stand back, scan the horizon and look at where the political, economic or security shocks might come from in the next year or so.

Rapid Crisis Management: making sure that we can respond quickly if a crisis breaks out.

Upstream Prevention: working to tackle the causes of friction or tension in communities that could spiral into conflict.
The Ambassador gave examples of how the British Embassy in Amman enhances the UK's security.
Political dialogue: understanding the political, economic and social dynamic and trying to spot emerging risks.

Defence Engagement: building local capabilities and forging strong links with the Jordanian Armed Forces.

Economic Support: The UK has provided $240million to Jordan in the last 2 years, some humanitarian, and some development.
$11milion has been spent direct in the support of Jordan's stability, to reinforce the Jordanian Armed Forces' ability to manage the flow of refugees over the border and mitigate cross-border threats; working with the Police to provide more effective policing in refugee camps and keep public order; and building football pitches and community centres in Jordanian towns and villages that are hosting large numbers of refugees.
These challenges won't go away. So Embassies and diplomats will continue to play a major role in their homeland's security. If anyone thought that diplomacy was all fun, frivolity and Ferrero Rocher, they could not be further from the truth.
Published 1 October 2014