Holy See: The Jubilee of Mercy
Information for pilgrims coming to Rome during the Extraordinary Year of Mercy, 08 December 2015 - 20 November 2016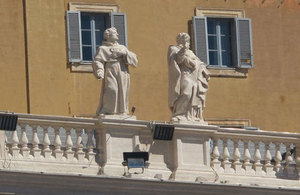 On 13 March 2015, Pope Francis announced an extraordinary Jubilee Year, to be called the Holy Year of Mercy. It will run from 8 December 2015 (the feast of the Immaculate Conception) until 20 November 2016 (the feast of Christ the King). The last Jubilee Year was held in 2000, in the papacy of Pope John Paul II, and was known as the "Great Jubilee".
In December 2015, as is customary in Jubilee years, the Holy Doors of St Peter's (and the other Papal Basilicas) will be opened for pilgrims to enter. Pilgrims who visit the Basilicas during the Holy Year are granted plenary indulgence.
The Holy See will put special arrangements in place for those pilgrims who have travelled to Rome to make a pilgrimage to the Tomb of the Apostle Peter and to enter through the Holy Door of St Peter's Basilica. There will be a special walkway, reserved only for the use of pilgrims, which will begin at Castel Sant'Angelo, continue down Via della Conciliazione, across Piazza Pio XII, through St Peter's Square and conclude at the Holy Door. Access to this walkway will be reserved only for registered pilgrims.
Therefore all pilgrims who wish to enter the Holy Door of St Peter's must register in advance of their visit on the special section of the Jubilee of Mercy website and apply through: Pilgrim Registration". Pilgrims will be asked to provide personal data and contact information, as well as the desired date and time of their arrival at the Holy Door. At the entrance to the walkway, pilgrims will have to present the confirmation number of their registration.
Passes will only be required for pilgrims going through the Holy Door at St Peter's. Pilgrims going to the other Papal Basilicas (St John Lateran, St Mary Major, and St Paul's Outside the Walls) will not have to register.
There will be volunteers at all four Basilicas to assist disabled pilgrims and those with specific medical needs.
The Holy See authorities are opening a Welcome Centre for Pilgrims at Via della Conciliazione 7.
There will also be links to the walkway from the Churches of San Salvatore in Lauro, Santa Maria in Vallicella (Chiesa Nuova) and San Giovanni Battista dei Fiorentina, which will all be open continuously to hear confessions.
The British Embassy to the Holy See is unable to make bookings for pilgrims. This has to be done via the Jubilee website. The Jubilee website will also give details for all the events planned for the Holy Year of Mercy.
Visitors to Rome are also advised to consult to the Travel Advice section of the website of the British Embassy to Italy.
Published 13 November 2015