World news story
Holy See: Five years since the Papal Visit to the United Kingdom
The British Ambassador to the Holy See marks the 5th anniversary of Pope Benedict XVI's official visit to the UK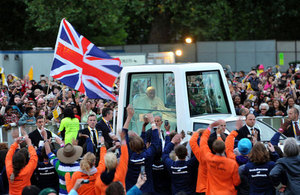 On 16-19 September 2010, Pope Benedict XVI paid an historic visit to the UK. This was the first ever official Papal State Visit to the UK, as Pope John Paul II's visit was a pastoral one.
To mark the 5th anniversary, the British Ambassador to the Holy See Nigel Baker said:
The State Visit to the UK by Pope Benedict XVI took our bilateral relationship to a new level. We have continued to build on that since, through Royal, ministerial and official visits and an intense bilateral engagement on the issues that matter - the Middle East, Ukraine, climate change, human rights, poverty and international development, human trafficking, geo-political conflict.
The British Embassy to the Holy See is accredited to the world's most extensive soft power network. Arguably, Pope Francis is the only truly global figure in world affairs today. And only a Pope could have made a speech like that of Benedict XVI at Westminster Hall, the cradle of democracy, in which he called on "the world of secular rationality and the world of religious belief…to enter into profound and ongoing dialogue, for the good of civilization.
The Ambassador also reflected on the legacy of the Papal Visit:
Pope Francis understands implicitly the importance of the Holy See's global dimension. Top level engagement, like the 2010 State Visit and The Queen's visit to the Holy See in 2014, provide the canopy beneath which our bilateral and global relationship is flourishing.
The 2010 State Visit looked to the future; to how the UK and the Holy See might co-operate better to improve our planet, tackle poverty, and contribute to the common good. That objective remains as relevant and as necessary today as it did five years ago.
Follow @UKinHolySee #popeuk2010 to replay the visit
Published 15 September 2015