Holy See: A new British Cardinal
Archbishop of Westminster named Cardinal by Pope Francis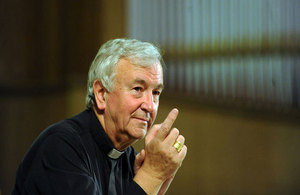 On 12 January 2014, Pope Francis announced that The Most Rev Vincent Nichols, Archbishop of Westminster, will be made Cardinal at the next Consistory on 22 February 2014.
The British Ambassador to the Holy See Nigel Baker warmly welcomed the announcement:
The selection of Archbishop Nichols – alongside his appointment last year to the Congregation for Bishops, the Holy See body responsible for making recommendations to the Pope on Episcopal appointments – is without doubt of great significance for Britain. And it also recognises the personal qualities in Vincent Nichols that the Pope has emphasised since the start of his Pontificate.
A man of great pastoral experience, from Liverpool to Birmingham and London; dedicated to the service of his community, relations with other Christian churches and with other faiths; focused on the poor and the vulnerable, and searching for practical answers to their difficulties, be it through strengthening the community engagement of business or ensuring decent living standards for all.
Mr Baker also recalled:
Vincent Nichols, Archbishop of Westminster is the first new British cardinal since 2003 and the first from England and Wales since Cardinal Cormac Murphy-O'Connor was appointed in 2001. There have only been 50 English, Welsh and Scottish cardinals created since the 12th century. It is a select and impressive group. They include one Pope (Adrian IV), men of Royal blood (Henry Beaufort in the 15th century, Reginald Pole – who almost became Pope – in the 16th century, and Henry Stuart, Cardinal York and brother of 'Bonnie Prince Charlie', in the 18th century), saints (St John Fisher, the Blessed John Henry Newman), sinners, and great church and national administrators. Vincent Nichols will be the 11th Archbishop of Westminster (the Catholic Metropolitan of England and Wales) in succession to be elevated to cardinal since the See was created in 1850.
Read the full text of Ambassador's statement
Published 22 January 2014