World news story
HMS Lancaster docks at the V&A Waterfront, Cape Town
Strengthening the UK and South Africa partnership in the field of defence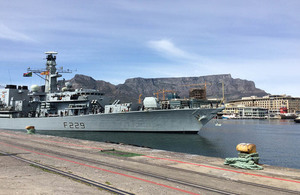 HMS Lancaster, one of the Royal Navy's state of the art Type 23, Duke Class frigates berthed at the Victoria and Alfred Waterfront, Cape Town between 23-28 September. HMS Lancaster's entry into the harbour on Wednesday 23rd September was announced by a 21 gun salute from the ship, returned by the South African navy from Signal Hill.
The ship held an open day on Heritage Day, 24 September, when over 2000 members of the public visited the Ship. The visitors took a tour of the upper deck, viewed the impressive systems on board, including the new Wildcat Helicopter and her aircrew.
On the evening of Saturday 26 September, the Commanding Officer of the Ship, Commander Peter Laughton MBE hosted a reception on board for South African partners across Government, business, culture, sport and others. The British High Commissioner, Her Excellency Judith Macgregor attended, speaking about the strength and breadth of the partnerships between the UK and South Africa across the fields of defence, business and sports. In association with Supersport TV, HMS Lancaster then hosted an exclusive live screening of the Rugby World Cup match between South Africa and Samoa.
Published 28 September 2015