World news story
HMS Ocean visits Lebanon next week
The visit of the Fleet flagship of the Royal Navy emphasises and deepens the partnership between the UK and Lebanon.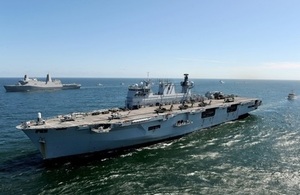 In a demonstration of the strength of the enduring UK-Lebanon partnership, the Fleet flagship of the Royal Navy will visit Lebanon next week. The visit will conclude a Middle East deployment of Her Majesty's Ship (HMS) OCEAN, which has seen the warship work with a number of countries East of Suez as well as with other coalition partners, including USA, France and Australia, demonstrating commitment to the region.
During her stay in the Port of Beirut, the ship will host a series of events designed to emphasise and deepen the partnership - in the defence field and beyond - between the UK and Lebanon, which aims to build a strong state for the benefit of all Lebanese. Her visit is not linked to combat operations.
British Ambassador, His Excellency Mr Hugo Shorter said, "We are very excited by the arrival of HMS OCEAN, the Fleet flagship of the Royal Navy. It's a symbol of the UK's leading role in promoting global stability and security. Our defence budget is the largest in Europe, and second largest in NATO. But we are equally proud of our partnership with countries like Lebanon. We remain steadfast in our commitment to Lebanon's stability, and it's due to our strong belief in the importance of Lebanese sovereignty that we have focused our support through state institutions like the Lebanese Armed Forces and the Internal Security Forces'.
In the months prior to arriving in Lebanon, HMS OCEAN has been the Flagship for Combined Task Force 50 (CTF50), a multi-national task force maintaining the free flow of trade, freedom of navigation for shipping and regional security in the Middle East. This was the first time that the UK had commanded CTF50 and the Task Force was led by Commodore Andrew Burns OBE Royal Navy, Commodore Amphibious Task Group.
Notes to editors
*HMS OCEAN weighs 22,000 tonnes and is the largest operational warship in the Royal Navy.
*Her primary role is as a helicopter carrier and amphibious assault ship, although her visit to Lebanon is not linked to combat operations.
Published 24 February 2017