World news story
History in the making as over 2.3 million tickets requested for Glasgow 2014
The overwhelming demand for tickets already confirms Glasgow 2014 as one of the most popular events in Scotland's history.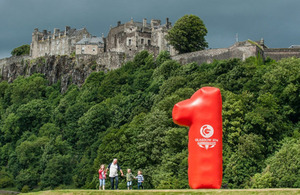 Over 2.3 million requests have been received for up to one million Commonwealth Games tickets as sports fans eagerly hope to book their place at Scotland's biggest ever multi-sport event next summer.
Organisers revealed the bumper figure shortly after the four-week window closed on Monday night (16 September) and thanked members of the public for their amazing response and interest in attending the 17 sports on offer across 11 days of elite competition.
The hugely successful ticketing campaign was led by Olympic and Commonwealth medalists and Glasgow 2014 ambassadors Sir Chris Hoy, Jessica Ennis-Hill, Tom Daley, Nicola Adams and Michael Jamieson and captured the imagination of fans who responded in numbers to apply for tickets across the board. Former athletes Susan Egelstaff and David Carry also lent their support to the campaign as part of a two week school tour with Clyde the Official Glasgow 2014 Mascot.
Glasgow 2014 will now begin the process of reviewing the applications, with a fair and simple draw being used to select successful applicants where the number of ticket requests substantially exceeds the number of tickets available. This includes Aquatics (Diving), Aquatics (Swimming), Athletics, Cycling (Mountain), Cycling (Track), Gymnastics (Artistic), Judo, Shooting and Triathlon events.
Those whose applications are successful will be notified between 30 September and 7 October, before payment is taken.
Ty Speer, Deputy Chief Executive of Glasgow 2014, said:
The first medal of Glasgow 2014 should go to members of the public for their fantastic support for the 4,500 athletes who will be coming here to compete. There has been incredible demand for tickets and early indications suggest that Glasgow 2014 is shaping up to be a truly historic occasion. There has been a lot of competition for tickets and some sports have been heavily oversubscribed.
We would like to thank everyone for their support and their interest in buying tickets and we will now begin the process of working through the applications. The system has worked well and has coped with the sometimes extremely high demand and we would like to thank our official ticketing services provider Ticketmaster for ensuring the process ran smoothly.
We look forward to getting in touch with people at the end of the month with news of their application.
Further Information:
The Commonwealth Games is an international, multi-sport event involving 71 teams of athletes from the Commonwealth of Nations. The event was first held in 1930 and takes place every four years. Glasgow 2014 will be the 20th Commonwealth Games and will be held from 23 July to 3 August. It will feature 17 sports in 11 days of competition with 261 medal events on show. The Games will play host to 4500 athletes and sell 1,000,000 tickets with the event aided by an army of 15,000 volunteers. Glasgow 2014 Ltd is the official name for the Organising Committee tasked with delivering the Games in partnership with the Scottish Government, Glasgow City Council and Commonwealth Games Scotland.

Glasgow 2014's official partner level sponsors are Longines, SSE, Virgin Media, BP and Emirates. More information on Glasgow 2014's full sponsor family

Glasgow 2014, the Commonwealth Games Federation and UNICEF are working together in an exciting partnership that will transform the lives of children in Scotland and throughout the Commonwealth. Using the power of sport and culture this unique partnership aims to inspire, enable and empower the children of the Commonwealth to be the best they can be.
Marcus Winsley, Director,
Press and Communications
British High Commission,
Chanakyapuri, New Delhi 110021
Tel: 44192100; Fax: 24192411

Mail to: upendra.singh@fco.gov.uk
Follow us on twitter, Facebook, Flickr, YouTube, LinkedIn, Storify, Eventbrite, Blogs, Foursqare
Published 17 September 2013