World news story
Historic Joint UK-Ireland Trade Mission at Singapore Airshow
We are pleased to announce that the first ever Joint Trade Mission from the United Kingdom and Ireland will visit Singapore for the Airshow.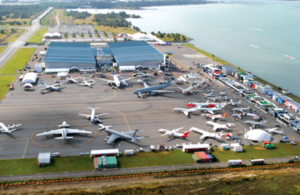 The Trade Mission will be led by Mr Richard Bruton TD, Irish Minister for Jobs, Enterprise and Innovation, Ms Arlene Foster MLA, Minister for Enterprise, Trade and Investment in the Northern Ireland Executive and the Rt Hon Stephen Hammond MP, UK Parliamentary Under-Secretary of State for Transport.
During their visit, the ministers will meet Singapore government and business leaders as well as members of the British and Irish business communities here.
The Ministers' visit to Singapore will also coincide with the arrival of the Clipper 2013-14 Round The World Yacht Race, scheduled to arrive in Singapore in the second week of February (subject to wind and sea conditions). The fleet includes a GREAT Britain Boat, a Northern Irish Boat "DerryLondonderry-Doire" and a Scottish Boat "Old Pulteney".
Speaking in advance of the Joint Trade Mission HE Antony Phillipson, British High Commissioner to Singapore said:
"The Joint Trade Mission is a historic step forward in realising the vision of Prime Minister David Cameron's and Taoiseach Enda Kenny's vision of closer bilateral cooperation between the UK and Ireland over the next ten years. We are proud that the Joint Trade Mission has chosen Singapore as its first destination. For both the UK and Ireland the aerospace sectors are of great importance to spur future economic development and the Singapore Airshow, Asia's largest airshow, is one of the most important in the world. We are confident that the trade delegation will find a range of opportunities for closer collaboration with Singapore partners."
HE Joe Hayes, Irish Ambassador to Singapore said:
"This first joint trade mission has attracted an impressive list of companies from Ireland, Northern Ireland and the UK. Aerospace is one of Ireland's most technically advanced industries and Ireland is recognised as a leading location for aviation, MRO, technology, engineering and aviation finance. It's great that Singapore has been chosen as the venue for this historic mission."
Further information
The UK remains the 3 largest foreign direct investor in Singapore, after the US and The Netherlands. There are over 1,000 British companies based here including GlaxoSmithKline, Rolls-Royce, Standard Chartered Bank, HSBC, Unilever and BG (oil & gas). Four out of the five largest UK law firms have also set up offices in Singapore. More than 400,000 Britons visit Singapore each year.
In the other direction, the UK is home to two-thirds of Singaporean investments into the European Union accounting for up to S$37 billion in investments at the end of 2011. Key Singapore investors include SembCorp, Keppel and ComfortDelgro.
Ireland's two-way trade with Singapore runs to over S$3 billion per year, of which aviation is a small but growing part. In Ireland there are over 250 companies active in the aviation sector, contributing approximately S$7 billion to GDP and supporting 54,000 jobs in Ireland. The Irish aviation sector comprises commercial airlines, air traffic and fleet management, manufacturing, international services, leasing, financial services and back office activities. It also embraces aircraft maintenance and overhaul centres specialising in airframes, aero engines, Auxiliary Power Units (APUs) landing gear, inventory and cabin interiors – all of which are supplied by a rich ecosystem of sub suppliers. The profile of these companies ranges from domestic small start-ups to very large multinational entities.
Published 7 February 2014