World news story
High-level Delegation from Kyrgyzstan to Learn about UK Criminal Justice System
A delegation of representatives of the Kyrgyz criminal justice system is visiting the UK to learn about the British justice system.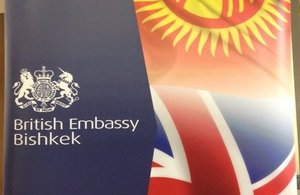 The delegation comprises representatives of the Presidential Administration, Ministry of Justice, Ministry of Internal Affairs, Supreme Court, Prosecutor General's Office, State Penitentiary Service, State Committee for National Security and the, State Service for Combating Economic Crimes.
The Kyrgyz visitors will meet Rt. Hon. Damien Green, Minister for Policing, Criminal Justice and Victims and the Rt. Hon. Baroness Warsi, Senior Minister of State at the Foreign and Commonwealth Office. They will also have briefings from a range of British practitioners including representatives of the Home Office (Ministry of Interior), National Crime Agency, Crown Prosecution Service, the Serious Fraud Office, and others. The programme will also include field visits to a police station, a court and a prison.
The study tour is the latest element in the UK-Kyrgyz Criminal Justice Dialogue project funded by the British Embassy Bishkek. The main goal of the Criminal Justice Dialogue is to strengthen mutual understanding between the two criminal justice systems and to support ongoing reform of the Kyrgyz system through a series of expert-level exchanges. Previous initiatives under the Criminal Justice Dialogue include visits to Bishkek by representatives of the UK's Crown Prosecution Service, Serious Fraud Office and Police, who delivered seminars and workshops on aspects of the UK criminal justice system to their Kyrgyz counterparts.
Published 14 March 2013