World news story
Her Royal Highness The Princess Royal to attend the Zeebrugge Raid centenary commemoration
Her Royal Highness The Princess Royal and Vice Admiral Sir Tim Laurence will visit Zeebrugge, in Belgium to attend the centenary commemoration for the Zeebrugge Raid on Saturday 21 April.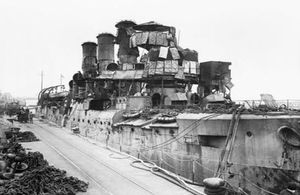 Her Royal Highness and Sir Tim, Vice Chairman of the Commonwealth War Graves Commission, will attend a ceremony to mark 100 years since the British naval forces carried out a blocking raid on Zeebrugge.
The operation was intended to block the access of German shipping and submarines in and out of the port and to inflict as much damage as possible to the German submarines, torpedo boats and ships which were based at the inland docks in Bruges. The raid led to the death of 176 British naval officers whilst leaving 412 wounded and 49 missing.
Her Royal Highness will pay tribute to the bravery of these men during the centenary commemoration.
The Princess Royal and Sir Tim will also view the exhibition 1914- 1918, the Battle for the North Sea in the Provincial Court in Bruges.
Further information
The following men were awarded the Victoria Cross for their services and acts of valour:
Commander (Acting Captain) Alfred Francis Blakeney Carpenter, RN
Lieutenant Richard Douglas Sandford, RN
Lieutenant Percy Thompson Dean, RNVR (Motor Launch 282)
Captain Edward Bamford, DSO, RMLI
Serjeant Norman Augustus Finch, RMA
Able Seaman Albert Edward McKenzie
Lieutenant-Commander George Nicholson Bradford, RN
Lieutenant-Commander Arthur Leyland Harrison, RN
Published 9 April 2018