Her Majesty's Ship Argyll visited Ghana
The Plymouth-based Royal Navy warship HMS Argyll was in Ghana for a two-day visit after participating in the SAHARAN EXPRESS Exercise aimed at developing interoperability across West Africa.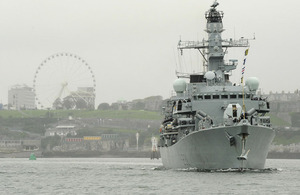 The Royal Navy warship, was docked at the Tema Port from 4 to 7 April for a "West African Maritime Security and Development" roundtable event.The half-day event drew together key regional actors to discuss country and organizational policies to address the different challenges faced off the coast of West Africa and to develop and harness opportunities in the maritime space.
HMS Argyll visited Dakar from 6 to 14 March in support of the International Exercise SAHARAN EXPRESS together with Senegal, Morocco, Mauritania, The Gambia, Cape Verde, France, Spain and the United States. The aim of this exercise SAHARAN EXPRESS is to develop interoperability across West Africa.
HMS Argyll is the longest-serving Type 23 frigate in the Royal Navy. Built in the late 1980s at the Yarrow Yard in Scotstoun on the Clyde (today part of BAE Systems), she was commissioned in 1991. Following an extensive £20 million refit in Rosyth during 2009 to 2010, HMS Argyll has now emerged as one of the most up-to-date and capable frigates in the Fleet, with her structure preserved and her weapons and sensors significantly enhanced.
HMS Argyll celebrated her 21st birthday on the 31st May 2012, being the first of class of the 'Duke'-class type 23 frigates
Her Majesty's Ship (HMS) Argyll visited Dakar
Published 8 April 2013