World news story
Her Majesty's Ambassador in Boffa
The British Ambassador in Conaky, visits Boffa to talk with the Authorities about the Stability in the region.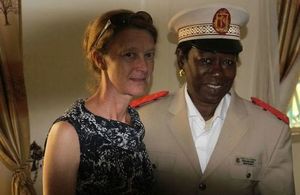 Her Majesty's Ambassador, Catherine Inglehearn visited Boffa on Thursday, November 3, 2017 with her husband and the Communication officer. They started by meeting with the Pefet of Boffa to talk about the stability in the Region.
Recently, many demonstrations have been noticed in both Kamsar and Sangaredji. Since British Companies are operation in regions such Alufer mining; the Ambassador mentioned to the prefet how important is the stability for the Development of the Region.
According to the prefet, everybody cannot work in the mines but mining companies should create a budget to organise the youth there and do Agricultural activities which might reduce the frustration.
The Ambassador also visited the grave of a British military berried in Boffa in 1941. It is an habit and the month to remember the dead.
For more information about the Embassy activities go to www.gov.uk/world/Guinea
Published 20 November 2017