News story
Helping to engineer skills for the future
Two Sellafield Ltd employees have taken centre stage at an event in the House of Commons to help drive forward diversity within science and engineering.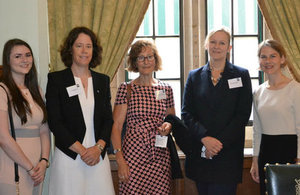 Technical Director at the Sellafield site, Rebecca Weston, was joined at the House of Commons event by scientific apprentice Charlotte Page, to talk about how we address the gender gap in careers relating to science, technology, engineering and maths (STEM).
Rebecca is an active STEM ambassador and also a member of the Board of Trustees with the Nuclear Institute (NI). She said:
In my current role I am responsible for the science, technical and engineering solutions and standards at the Sellafield site, and an important part of this role is ensuring that we make optimum technology choices and develop the science, technical and engineering skills and capabilities needed for years to come.

I was honoured to be part of the discussion and found the words of the other speakers, including Charlotte, extremely encouraging. As a representative of Sellafield Ltd and the Nuclear Institute I am aware of our collective responsibility to encourage new entrants into what is a fast growing sector, and help develop a diverse, skilled generation of globally recognised nuclear engineering and decommissioning experts.
Charlotte said:
Speaking in the House of Commons was really nerve-wracking, but I was really pleased to have the opportunity to share my views.

I think sometimes girls are put off by STEM subjects because there isn't enough visibility of the role models that have excelled within this area. For me, being able to see what people like Rebecca can achieve is inspiring and will help young women see the range of opportunities offered by STEM subjects.
Tania Mathias MP, who sits on the Select Committee for Science and Technology, chaired the event. She concluded:
From today's conversation, there is not one answer to creating diversity within engineering. It is everyone's responsibility, from parental guidance, positive role models to career advice and proactive organisations to help shape the skills and capabilities needed now and for the future.
Published 15 June 2016