World news story
Helping Macedonia to make business easier
British Embassy Skopje supports Macedonia in establishing a Point of Single Contact in line with the EU Services Directive.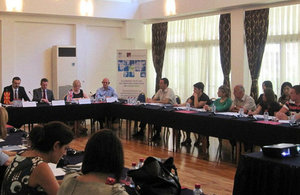 A British Embassy supported project will help Macedonia to establish a Point of Single Contact for businesses, in line with EU requirements. The project to establish a feasibility study was launched by our Ambassador Christopher Yvon and Minister of Economy of Macedonia Valon Saraqini through the signature on 4 July of a Memorandum of Understanding. Implementation of the project will be helped by British experts who attended a kick-off workshop for the project in Skopje immediately following the signature event.
Speaking at the project launch Ambassador Yvon said:
I would like to commend the minister and his team for their enthusiasm in supporting the goal of making business easier. In the current financial climate, it is even more vital that business can be conducted more efficiently and effectively. I am pleased that today we have here our colleagues Kerry Jones from the Department for Business, Innovation and Skills, and David Williams from the Cabinet Office to share experience, knowledge and best practice from the establishment of the UK Point of Single Contact.
The project will be implemented by the Ministry of Economy in cooperation with Balkan Developments Solution Group and last until March 2014. The project will include a range of Macedonian ministries and agencies, such as the Ministry of Justice, Ministry of Education, Ministry of Information Society and Administration, Secretariat of European Affairs, Employment Agency, Cadastre Agency, Agency for food and veterinary products and the Central Register of Macedonia.
Published 5 July 2013