World news story
Headstart for young learners in southern Kyrgyzstan
HMA Judith Farnworth visits Osh state and non-state institutions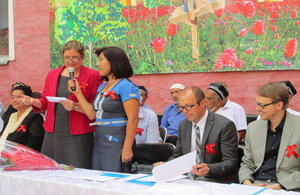 The centrepiece of the Ambassador's 11 September visit to Osh was the opening of a Community Based Kindergarten (CBK) in Jim village, Kara-Suu rayon, Osh oblast. The CBK, housed within a secondary school, will provide early learning services to some 120 children each year. 60% of pupils come from low-income or migrant families and single-parent households in a 2430-strong community, where 90% of the population is ethnic Uzbek.
The facility is one of 61 to be opened in Osh, Jalal-Abad and Batken Oblasts and jointly funded by the UK's Department for International Development (DFID) and UNICEF under the Equity project which aims to promote equal access to services and the improvement in living standards for communities in southern Kyrgyzstan.
DFID, in partnership with UNICEF, supported for the renovation of the building, which is accessible for wheelchair users, and provided teaching materials and stationery. For its part, the local municipality allocated the building free of charge and provided local budget funds for renovation works, salaries of 4 staff and utility costs. The local community itself contributed funds for the renovation and worked with teachers to create a safe and attractive play area for the kindergarten children.
In her speech to the hundreds of children, parents, teachers and local dignitaries who gathered to celebrate the opening the Ambassador said "This project is an excellent example of partnership - between the UK, UNICEF, Kyrgyz authorities at national, oblast and municipal level, and the local community, which will bring tangible results. The children who study here will receive invaluable skills and experiences to prepare them for school and enable them to get the most out of their future education." The Ambassador, along with UNICEF Country Representative Jonathan Veitch enjoyed the children's performances of poetry and dance.
After only ten days, the benefits of the kindergarten were already evident to a mother of a 4 year-old boy who had noticed that her son was using new words and skills.
During her visit, the Ambassador paid an introductory call on Mr Melisbek Myrzakmatov, the Mayor of Osh, to learn about his plans and priorities for the city. She set out the main areas of British Embassy activity in Kyrgyzstan. The Ambassador also briefed the Osh region Regional Representative of the Agency for Local Government and Inter-Ethnic Relations on the Embassy's activities and met colleagues from the international community.
The Ambassador dropped in to the International Faculty of Osh State University to provide some English language practice for the students. The students impressed her with their excellent language skills and their thoughtful questions ranging from current challenges in international affairs to what it is like to be a diplomat.
Published 13 September 2013