World news story
Head of London's global financial district visits Chile
Lord Mayor Roger Gifford met Finance Minister Felipe Larrain and discussed the upcoming "Chile Day" event in London.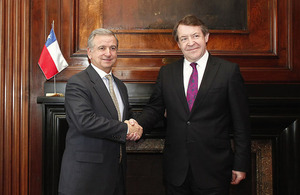 The Lord Mayor of London Alderman Roger Gifford, visited Chile from 7 – 9 July and met several key political and commercial actors, including Minister of Finance Felipe Larraín and local business representatives from the finance, legal services, mining, retail and infrastructure sectors.
The visit of the Head of London's global financial district - whose main role is to act as ambassador for the financial and professional services based in the United Kingdom - is part of the UK's efforts to revitalise its relations with Latin America, in particular by strengthening UK commercial and financial links with emerging economies such as Chile.
The programme included activities with the Ministers of Finance and Public Works, the Director of the Central Bank, Santiago's Chamber of Commerce and ICARE, as well as the launch of DAC Beachcroft's operation in Chile. During the meeting with Finance Minister, the upcoming "Chile Day" event that will take place in London in September was discussed amongst other relevant topics.
Lord Mayor Roger Gifford travelled with a trade delegation (De La Rue, London & Partners, and Cambridge English Language Assessment) and his wife Clare, whose agenda was focused on cultural activities as well as visits to a children's hospital and a school located in one of the underprivileged neighbourhoods in Santiago.
Published 11 July 2013