Press release
HCA publishes latest set of Housing Statistics
A total of 14,176 new homes were completed through programmes run by the Homes and Communities Agency in the first 6 months of the financial year (April 1 to September 30).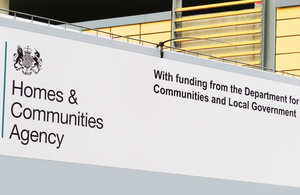 A further 13,040 new homes were started on site, according to the latest housing statistics published by the agency today.
The statistics show that 3,229 market homes were started, an increase of 26% compared to the same period last year. 9,811 starts (75% of the total) were for affordable homes. This includes 653 new build homes purchased by the provider at build completion. As these have not previously been reported, excluding them allows a like for like comparison with the same period last year (9,767), which shows that starts for affordable homes were broadly steady (-6%). This is in line with our expectations and forecasts as the final year of the Spending Period focuses on completions. The 2011 to 2015 Affordable Homes Programme accounted for 49% of starts, while the Affordable Homes Guarantees Programme accounted for 36%.
Affordable housing completions (10,631) also represented 75% of the total reported, equating to an increase of 28% on the same period last year; while the number of market homes completed (3,545) increased by 41%. Taken together, market and affordable housing completions increased by 31% relative to the same period last year.
There were a further 14,515 homes completed with the assistance of the Help to Buy equity loan, demonstrating the impact of this programme in helping people, particularly first time buyers into home ownership.
All of these programmes and homes contribute to overall housing supply and help to meet a range of housing needs in local communities.
HCA Chief Executive, Andy Rose, said:
Delivery to date demonstrates that we are on track to meet our forecasts across the range of our programmes which are helping to support the housing ambitions of local places and communities, and delivering our contribution to government's aspiration of 170,000 new affordable homes by 2015.

As well as making a significant contribution to overall housing supply, I am pleased to see the number of homes built through our land and recoverable investment programmes gathering pace. This will ensure we maintain the momentum in delivering new homes across all tenures, and ultimately, create strong places and communities.
The housing statistics present the housing starts on site and housing completions delivered by HCA programmes in England, excluding London, with the exception of the Get Britain Building and Build to Rent programmes and Help to Buy equity loan, which the HCA administers on behalf of the Greater London Authority.
Published 20 November 2014