Press release
Hate rising energy costs? Green Deal With It
The Green Deal launched on Monday 28 January.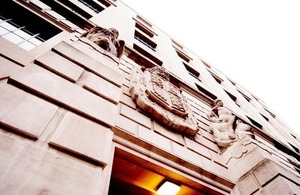 Press notice: 13/009
The Green Deal goes live today, giving people the opportunity to transform their homes by paying for energy efficient home improvements with the savings on their energy bills.
The Green Deal is the Coalition Government's new initiative to transform Britain's homes. With buildings in Britain among the least efficient in the world, the Green Deal gives homes and businesses a new way of paying for energy efficient improvements such as insulation and new heating systems.
There are 45 different types of improvements currently available under the Green Deal, helping people warm up their homes and pay for some or all of the improvements over time through their electricity bill.
From today households in England and Wales who use the Green Deal to make energy saving home improvements will also qualify for hundreds of pounds of cashback from the Green Deal Cashback Scheme. The more work households decide to have done, the more cash they could receive and packages could be worth over £1,000.
Deputy Prime Minister Nick Clegg said:
The Green Deal will help thousands of homes stay warm for less. Those people will benefit from energy saving improvements – and their energy bills will fall. The UK green sector is a success story – it is the sixth largest in the world and has a crucial part to play in building a strong economy. The Green Deal will support thousands of jobs – not just over the next few years, but in the long-term.
Energy and Climate Change Secretary Edward Davey said:
More and more families are being hit by the rising cost of fuel bills and the best way people can protect themselves from increased costs is to use less energy. This is where the Green Deal comes in, giving people a whole new way to pay for energy saving home improvements. The Green Deal is a great deal. Improve the look and feel of your home, make it cosier and at the same time save energy – what's not to like?
Energy and Climate Change Minister Greg Barker said:
The Green Deal will transform the energy efficiency market and puts consumers in charge. It's a fantastic new scheme that will allow people to make their homes warmer and save energy at the same time. And it's not just consumers who will benefit. The Green Deal is also great for business, creating a new market and new jobs. I'm truly excited about the potential the Green Deal has to transform Britain's buildings.
A host of businesses and industry bodies have today welcomed the arrival of the Green Deal and the opportunity it presents to update Britain's housing stock and create new jobs (quotes can be found below).
The Government has also today unveiled its communications campaign to tell people about the Green Deal. A nationwide campaign - 'Green Deal with it' – will help inform people about the benefits of the scheme and how they can sign up for a warmer home and energy savings.
The two print advertisements can be downloaded below:
The Government also welcomes today the publication of a new toolkit produced by the Centre for Sustainable Energy to help community groups get involved in making the Green Deal work in their neighbourhoods. Free and impartial advice on the Green Deal is available by calling the Energy Saving Advice Service (England, Scotland and Wales) on 0300 123 1234 or visiting www.gov.uk/greendeal
Notes to editors
Green Deal in numbers
£125 million is available in the Government funded Cashback Scheme

8 million households could benefit from solid wall insulation

4 million households could benefit from cavity insulation

60,000 jobs are expected to be supported in the insulation sector alone by 2015 – up from 26,000 in 2011

£3.5 million of funding to training in key Green Deal skills

£270 a year could be saved if a typical three bedroom semi-detached house installed just solid wall insulation

38% of the UK's total greenhouse gas emissions come from leaky buildings
How the Green Deal works
Firstly, a Green Deal Assessor will come to your home, talk to you about your energy use and see if you could benefit from making energy efficiency improvements. Your Assessor will recommend improvements that are appropriate for your property and indicate whether they are expected to pay for themselves through reduced energy bills. Green Deal Providers will then quote for the recommended improvements. You can get as many quotes as you like, and you don't have to choose all of the recommendations made to you.
Once you've chosen a Green Deal Provider, they will write up a Green Deal Plan. The plan is a contract between you and the Provider – it sets out the work that will be done and the repayments, including the fixed interest rate. Once you've agreed to a Green Deal Plan, your Provider will arrange for the improvements to be made to your home by a Green Deal Installer. You can then start to enjoy a more energy efficient home. Your Green Deal repayments will be automatically added to the electricity bill for the home.
For more information visit www.gov.uk/greendeal
The Bristol based charity Centre for Sustainable Energy has produced the communities' toolkit, part-funded by a grant from DECC. It can be download at PlanLoCal. It contains a wide range of resources to help community groups to play an effective role in the Green Deal.
Business and industry support for the Green Deal
Ann Robinson, Director of Consumer Policy at uSwitch.com:
"Green Deal has the potential to help consumers afford energy against a backdrop of escalating fuel bills. Our surveys tell us that many people simply do not know how to make their homes more energy efficient. They also need assurance about the quality of any work done, and help with funding.
"Green Deal ensures that accredited professionals to do the work, backed by strong consumer protection. It also provides the financing, so will enable hard pressed consumers to go ahead with confidence, providing much needed protection against rising bills."
Nationwide:
"Nationwide recognises the benefits to all that comes from investment in improving the energy efficiency of our homes. Nationwide supports the aims of the Green Deal in delivering cost effective solutions and in allowing customers to pay for their investment in a new and innovative way. Furthermore Nationwide is updating its Green Homes Guide and our existing green lending policies to reflect the Green Deal."
Carillion:
"It is a simple truth that by far the best and most sustainable way to heat our homes affordably is by making sure they don't leak energy. For millions across the UK this means installing the right mix of insulation and heating measures and we believe that Green Deal is a golden opportunity to do this at scale and within everyone's budget. We therefore welcome today's launch – it's good news for households and good news for green jobs."
Annmarie Blomfield, Managing Director, 1 Green Place:
"We have already done over 200 assessments and are very excited about the future with Green Deal as we've already got 1,800 assessments waiting in the wings."
Phil Cliff, Mortgage Director at Santander:
"Santander UK welcomes the new energy efficiency scheme, Green Deal, launched today by the Government and looks forward to continuing to support the UK housing market."
Lloyds Bank:
"We are supportive of any initiative that helps homeowners to improve their property, both in terms of efficiency and comfort. We will not be changing our affordability calculations as we expect the savings achieved through these improvements to be reflected in the costs in utility bills."
Brendan Ashford, Managing Director, Ampere GDP:
"We're a family run business and see the Green Deal as an exciting opportunity for both the customer and construction industry. We're operating nationally and with our network of local qualified energy advisors we've already done over 40 assessments and have 200 lined up to do over the next few weeks."
Neil Schofield, Head of External and Governmental Affairs Worcester Bosch Group:
"Worcester Bosch Group welcomes the Government's Green Deal announcement. UK homeowners have been crying out for a positive commitment from the Government, looking to them to offer a sensible solution on how they can increase the efficiency of their homes – and the Green Deal ticks that box.
"The main benefit of the Green Deal is that it offers homeowners an opportunity to take out a loan to invest in the efficiency of their properties – whether this be insulation, more efficient windows and doors or upgrading an old –inefficient boiler.
"Certainly for the heating industry, the Green Deal has become the 'main show in town' and this is now a massive opportunity for us to make it a success.
"For the boiler industry alone approximately 5,000 installations take place on a daily basis, so the opportunity for the industry to enhance the collective heating efficiency of UK homes is clear to see.
"As the UK's leading heating and hot water manufacturer we are now geared up and looking forward to engaging with installers nationwide ensuring there are enough accredited professionals in place to make the Green Deal a success."
Jamie Mehmood, Senior Director of Sustainable Energy Finance, RBS Group:
"RBS Group welcomes initiatives like the Green Deal. As a business we recognise how important it is to take our environmental responsibilities seriously. We have set ambitious targets for reducing our carbon footprint and we have a long standing commitment to supporting the renewable energy industry. Additionally, we are supporting UK businesses to increase their energy efficiency through our recently launched £200m Carbon Reduction Fund. We therefore welcome the Green Deal's contribution to reducing the UK's carbon footprint."
Royal Institution of Chartered Surveyors (RICS):
"We have worked closely with stakeholders in the property industry to develop guidance on the Green Deal. RICS welcomes this as an effective way for property professionals, landlords, tenants, buyers and sellers to understand how a Green Deal on a property interacts with various types of property transactions."
Simon Roberts OBE, Chief Executive of the Centre for Sustainable Energy:
"The Green Deal will succeed where people understand it and feel like it's something for people like them in homes like theirs. That's a fantastic opportunity for community groups to lead the way in engaging local people, sharing local experiences, and creating neighbourhoods where improving the energy efficiency of your home becomes normal. We're delighted that DECC has supported our new toolkit to empower and enable community groups to get involved."
You can find promotional material for and information about the Green Deal scheme and Green Deal With It campaign on our Promoting the Green Deal page.
Published 28 January 2013