Hanukkah message from Nick Clegg
The Deputy Prime Minister has recorded a message to mark Hanukkah.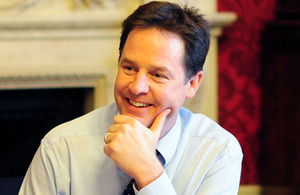 Hanukkah message from Deputy Prime Minister Nick Clegg
The full transcript is below:
Hanukkah reminds us of the miracle of the oil and the great resilience, dedication and determination of the Jewish people in triumphing over adversity and oppression, winning back the right to religious freedom.

It is this same resilience that the community celebrates today, as families around the country light the first candle on their Chanukkiah, eat latkes and doughnuts and spin the Hanukkah dreidel.

Hanukkah is a time for celebrating the resilience of the Jewish people. A time for having faith that struggling over adversity is possible. The Hanukkah story of enough oil for one day burning for eight nights tells us that solutions can be found to seemingly insurmountable problems. That there can be light in our darkest moments. It's a significant message of hope in these difficult times.

So, as Hanukkah begins, I'd like to wish the Jewish community a very happy and peaceful holiday.

Chanukah sameach to you all.
Published 8 December 2012