News story
Gwen Parry-Jones joins the CNPA board
Gwen Parry-Jones joins the Civil Nuclear Police Authority board.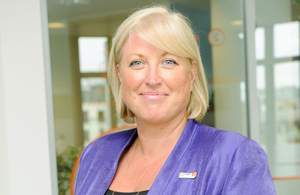 Gwen Parry-Jones joined the Civil Nuclear Police Authority board on 1 June 2014 as an Industry Representative Member. On 9 July she visited the CNC HQ at Culham, Oxfordshire, where she met the CNC Chief Constable, Mike Griffiths and other CNC personnel.
Gwen said:
Safety is our overriding priority, and nuclear security of our facilities plays an essential part in delivering this outcome. I am delighted to be appointed onto such an important body as the CNPA board and am looking forward to contributing an Industry viewpoint to the discussions.
The CNPA Chairman, Sir Phillip Trousdell, said:
" I am delighted to welcome Gwen to the Civil Nuclear Police Authority. We will all benefit from her wide experience of the nuclear industry and the high regard in which she is held by her contempories. I much look forward to working with her.
Gwen Parry-Jones began her career as a Reactor Physicist and has since held a variety of positions within the nuclear industry. In 2007, she became the Plant Manager for the Pressurised Water Reactor site at Sizewell B and in 2008, she was appointed as the Station Director at Heysham 1 Nuclear Power Station, being the first woman in the UK to hold either of these two posts.


Gwen subsequently undertook the role of Campus Project Director, to further develop the training and skills framework for EDF Energy. In 2012 she returned to EDF Nuclear Generation as Safety & Assurance Director and is also a Fellow of the Institute of Physics.
Published 1 June 2014