Press release
Ground investigations to begin at Trinity Burial Ground
The A63 Castle Street scheme will see a new phase of the project starting next week.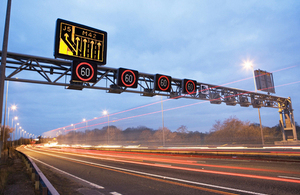 Investigative work is due to start at Trinity Burial Ground, near the Mytongate junction on Castle Street. The investigations are needed so that specialists can evaluate the condition of the graves, and conduct ground surveys. This will allow plans to be made in the event that planning permission is granted for the A63 Castle Street improvements.
Approximately one third of the Burial Ground will be affected by the proposed scheme, and this early phase of work has been allowed after permission was granted from Holy Trinity Church and the Diocese of York.
Sarah Kearns Highways Agency assistant project manager said:
To ensure the work is carried out respectfully, a secure fence will be put up around Trinity Burial Ground and areas will be screened off. The work will involve removal of low lying bushes, ground surveys, and the temporary removal of some of the grave monuments.

The investigations will be carried out by specialist contractors and overseen by archaeologists. Any monuments removed will be managed carefully, placed into safe storage and replaced once work has been completed.

At this stage the work carried out will initially be ground surveys, should any human remains need to be exhumed, they would be treated sensitively and with respect.
Subject to receiving planning permission, the main exhumation work is expected to start in 2016/17.
The A63 Castle Street scheme will improve access to the Port of Hull by widening some sections of the road, upgrading the Mytongate junction and building new pedestrian crossings.
The scheme also aims to help reduce the impact of the barrier caused by Castle Street between the city centre to the north, and the tourist and recreational developments to the south.
In November last year the Highways Agency put out an appeal to relatives who thought they may have ancestors who had been laid to rest at Trinity Burial Ground to come forward ahead of the planned work in the area. The project team received just over 70 responses.
If anyone has any further enquires about the work, or if people do think they have ancestors who may be buried in Trinity Burial Ground, please contact the project team by calling 0113 2836805 or by email.
For further information visit the A63 project website where you can also register for regular updates on the scheme, including the Trinity Burial Ground plans.
General enquiries
Members of the public should contact the Highways Agency Information Line on 0300 123 5000.
Media enquiries
Journalists should contact the Highways Agency press office on 0844 693 1448 and use the menu to speak to the most appropriate press officer.
Published 25 February 2015