Press release
Green light for A1 Coalhouse Interchange improvements
Work to improve the A1 Coalhouse Interchange on the Newcastle Gateshead Western Bypass, including installing traffic signals at this busy junction, will begin next week.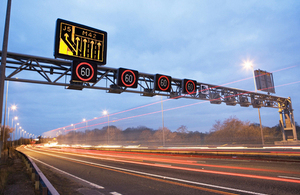 This work is in addition to the Highways Agency's A1 Coalhouse to Metro Centre major upgrade scheme which is due to begin at the end of August.
The Highways Agency will install part-time traffic signals, traffic signs and road markings at the roundabout. Street lighting will be improved and resurfacing will take place on the A1 Coalhouse slip roads.
Two approaches to the interchange will also be widened to increase capacity at the junction:
The carriageway to Lamesley Lane at the junction with Coalhouse Roundabout
The carriageway to Coalhouse Roundabout
Highways Agency Project Manager Steve Bishop said:
By introducing peak flow traffic signals to the Kingsway and Lamesley approaches to Coalhouse Interchange we will substantially reduce queues for drivers at this junction. The scheme will reduce congestion and will also assist drivers by reducing journey times during construction of the Coalhouse to Metro Centre major work which is due to begin in August. The scheme has been designed to fully complement the work taking place between Coalhouse and Metro Centre and will enhance the benefits seen by road users when the major project is completed.
The work will take place from 11 August until 21 November, between 8pm to 6am. During the work there will be overnight lane closures and carriageway closures on the northbound and southbound A1, the slip roads at Coalhouse Interchange, the southbound Kingsway South, Lamesley Lane and Coalhouse Roundabout. During all of the closures, clearly signed diversion routes will be in place.
General enquiries
Members of the public should contact the Highways Agency Information Line on 0300 123 5000.
Media enquiries
Journalists should contact the Highways Agency press office on 0844 693 1448 and use the menu to speak to the most appropriate press officer.
Published 6 August 2014