World news story
Green Finance Towards a Sustainable Philippines
The UK Government in partnership with the Philippine Government is convening a Forum on "Green Finance Towards a Sustainable Philippines" on 17 January 2019.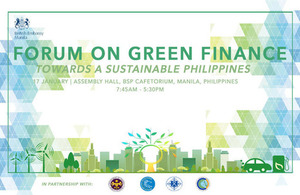 The UK Government through the British Embassy Manila, in partnership with the Philippines' Department of Finance (DOF), Bangko Sentral ng Pilipinas (BSP), National Economic Development Authority (NEDA), and Climate Change Commission (CCC) is convening a Forum on "Green Finance Towards a Sustainable Philippines" on 17 January 2019 at BSP.
The Forum aims to serve as platform for harnessing and building on the rapidly increasing interest in climate funding and development of new markets for green finance to support and accelerate green investments and projects in the Philippines. The forum will focus on four themes, namely: Setting the Context of Green Finance, Financial instruments, Philippine Experience on Green Finance, and Available Financing Facilities for Green Investments. The discussions and presentations in these sessions are geared toward (i) understanding foundational requirements to better define and scale-up green finance in the Philippines; (ii) presenting available green instruments in the Philippines and globally; (iii) showcasing the Philippines experience on green finance; (iv) learning about the available financing facilities that supports and promotes green investments; and (v) encouraging collaboration among government and private sectors in promoting and accelerating green finance in the country.
The forum will be attended by the UK Ambassador Daniel Pruce, Secretary Carlos Dominguez III of DOF, Secretary Benjamin Diokno of DBM and senior officials from government, financial institutions, private sector, civil society organisation, research institution and academe.
British Ambassador to the Philippines Daniel Pruce said:
As a global leader in green finance through the City of London, the UK recognises the need to bring together existing capabilities, create new business opportunities, and communicate to the wider market what London's offer is in green finance. The UK government is committed to working and building stronger collaboration with countries such as the Philippines as they seek to make the transition away from fossil fuels and towards a sustainable economy.
Distinguished speakers from UK institutions such as Foreign and Commonwealth Office, Green Investment Group, Climate Bonds Initiative, HSBC, and Standard Chartered will participate in the Forum. Philippine government representatives including development partners and institutions working on the green finance space are also invited to share experiences and initiatives on green finance.
The strong partnership of the UK with Philippine government on green finance is a testament to the UK's steadfast support for transitioning to a low-carbon pathway and addressing climate issues. We hope this green finance forum can serve as a springboard for increased collaboration between the UK and Philippine government, with the ultimate goal of transitioning to low carbon, sustainable future.
About 150 representatives including media are expected to participate in this event.
For media inquiries, please contact: Cecille.Fontanilla@fco.gov.uk
Published 16 January 2019