Green Deal pioneers step forward
04 April 2012 22 organisations sign up to be first Green Deal providers Greg Barker hails "watershed moment" 22 organisations have met…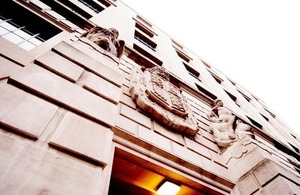 04 April 2012
22 organisations sign up to be first Green Deal providers
Greg Barker hails "watershed moment"
22 organisations have met with Climate Change Minister Greg Barker to sign an agreement with government to work to become the first Green Deal providers.
The Green Deal is the government's plan to improve the nation's draughty homes at no upfront cost to the consumer.
The organisations who have signed today's agreement at DECC include big business, SMEs and a community group. Green Deal providers will be offering energy efficiency packages to consumers when the scheme launches later this year.
The Government will be working with the pioneers to ensure the move from testing into a managed launch in October works seamlessly and provides a good customer experience from day one.
Greg Barker said:
"The signing of this agreement between government and business pioneers represents a watershed moment in the development of the Green Deal.
"The commitment shown today highlights the opportunity organisations see in the Green Deal from community groups, SMEs to big business which only bodes well for the scheme's future success.
"We will be working with these organisations to ensure they can fulfil the potential they have demonstrated today and become the first to offer Green Deals."
Greg Barker and representatives from the 22 organisations will be available for a photo opportunity at 3.15pm today outside DECC's offices at 3 Whitehall Place, London.
The list of organisations, in alphabetical order, who have signed the agreement are:
Ampere GDP
Anglian Home Improvements
BritishEco
British Gas
CarbonLow Group
Carillion
Empower Community
Enact Energy
E.ON
Gentoo Group
Grafton Group
Insta Group
Keepmoat
Kingfisher
Mark Group
ReEnergise Finance
SIG plc
SSE
Stroma
Toriga Energy
Willmott Dixon Energy Services
Yorkshire Energy Services
In response to the signing today:
Brendan Ashford MD, Director, Ampere GDP (Green Deal Provider) said:
"I believe the Green Deal is an exciting opportunity for both the customer and construction industry; it opens the door to many more home owners, tenants and businesses who may have deemed it too expensive and concerned about tying up cash on a new boiler, windows or renewable energy products before. As a nation we have a vast amount of housing and commercial stock that wastes energy just heating up the atmosphere. At Ampere GDP we will be offering energy efficiency surveys and installing the measures to all sectors across the UK by a network of local qualified energy assessors and installers to the customer."
Steve Pollard, Managing Director, Anglian Building Products said:
"We recognise the energy inefficiencies with the current status of the UK housing stock and as one of the leading home improvement companies in the country we believe we have an important role to play in delivering the Green Deal. The concept of upgrading homes with energy efficiency measures at no upfront cost to the consumer is an initiative that we fully endorse"
Gearoid Lane, Managing Director, British Gas New Markets said:
"We know that household budgets are stretched at the moment but higher energy prices don't have to mean higher bills. Britain's housing stock is some of the most inefficient in the developed world with £1 in every £4 spent on heating our homes wasted because of poor insulation. The Green Deal is an innovative way to help households cut their bills whilst improving their home. British Gas is proud to be one of the first green deal providers in the country."
Paul Sellars, Chairman, BritishEco said:
"BritishEco is an established renewable energy installer covering a wide range of technologies to domestic, commercial and public sector properties. We wholeheartedly support the aims of the Green Deal and wish to use our practical skills and experience in the renewables sector to contribute to the development phase of the Green Deal through our signing the MoU. We wish to be involved with the Green Deal from the start. We feel that the Green Deal is an essential part of the development of secure, affordable and low carbon energy in the UK. The Green Deal will make renewable and more efficient energy available to all homes, businesses, public sector and community properties. Everybody can in some way benefit. It is a very exciting proposal where all who use the Green Deal will benefit from lower energy costs. There are real long term gains."
Peter Walden, Director, CarbonLow Group said:
"CarbonLow are delighted to be working with DECC in pioneering the Green Deal. With a background in energy performance in buildings, CarbonLow can see the potential in the Green Deal in encouraging both landlords and tenants of commercial property to make their buildings more energy efficient and cheaper to run without considerable upfront costs."
Siobonne Brewster, Director, Carillion Energy Services said:
"We are delighted to be among the early signatories to this MoU and to help ensure that the systems and processes are all in place to make Green Deal a great experience for the customer. Green Deal is a pioneering initiative which is set to transform the take-up of insulation, other energy efficiency measures and renewable technologies and to make the benefits of low carbon living and reduced energy costs affordable and accessible to millions of households and businesses across the UK."
Paul Yiannouzis, Partner, Empower Community said:
"A high proportion of green house gas emissions originate from inefficient building stock. Empower Community believes that the Green Deal will facilitate implementation of energy efficient measure in the domestic and commercial building stock. Empower Community is looking forward to work with the Government and other providers to assist in setting up, implementing and delivering Green Deal measures."
John Egan, CEO, Enact Energy Renewables Limited said:
"Enact is pleased to be a part of the Pioneer Green Deal Provider Group. The Green Deal promises to move the renewable and energy saving market on from the consideration of individual technologies and measures to a genuine 'whole house' approach to improving the energy performance of UK homes. The role of a Green Deal Provider very closely matches the role that Enact has played since 1996 under its own name, and in partnership with local councils, and over the last few years on behalf of Marks & Spencer and Tesco."
Phil Gilbert, Head of Energy Innovation, E.ON said:
"Green Deal has the potential to help millions of customers to improve their homes, cut their fuel bills and their carbon emissions, without needing to find the upfront investment. This is a green revolution in home improvements and it's vital that customers have confidence in the improvements and in the companies delivering them. This agreement brings together Government and many other players to ensure a full, joined up solution for the launch in October. We believe that by working together under this framework, we can better deliver excellent customer service for those customers and help them get the maximum benefit from the very beginning."
Sally Hancox, Director, Gentoo Group said:
"Gentoo has a firm belief in the potential of the Green Deal to enable large scale retrofit programmes across the UK. The principles of the Green Deal are sound and as a group, Gentoo has a strong desire to enable its customers in Sunderland and others across the UK to benefit. The 'Pioneer Providers' group allows us to test the real operational processes and identify any developments prior to large scale roll out. A successful Green Deal will rely on new levels of collaboration between partner organisations and this group is the start of that."
Paul Roche, Director of Sustainability and Renewables, Grafton Group said:
"As a builders and plumbers merchant, we have an important role to play, supporting installers and product manufacturers on a daily basis. We take our commitment to sustainability very seriously and are proud to be part of the MoU, and all it stands for. This initiative brings together major players within the industry and demonstrates how we are all working towards that common goal, to reduce carbon emissions."
David Robson, Director, InstaGroup said:
"InstaGroup is delighted to be involved as a Green Deal pioneer provider. For over a decade Insta's Snug Network, 80 independent local businesses, have provided a complete range of energy efficiency improvements in their individual local communities. The Snug Network ensures customers receive the highest standards of workmanship, backed up with industry leading guarantees and warranties, but delivered by small, local businesses. As a Green Deal provider, we will ensure that the SME sector has strong representation without the need to compromise the all important consumer protection that lies at the heart of a successful Green Deal."
Ian Sutcliffe, CEO, Keepmoat said:
"We will be one of the first Green Deal providers in the UK and we're delighted to be linking with DECC to ensure we offer the best possible service from day one. As a national provider of housing solutions and having already delivered Green Deal fundable works to over 250,000 homes, we're well placed to deliver the Green Deal with our partners."
Toby Gordon, Director of Finance, Kingfisher Future Homes said:
"We are pleased to sign this MOU. It offers the chance to test our systems and processes ahead of the scheme's launch in October. Whilst we will offer customers a range of financing options, the 'Green Deal' provides an innovative way to help people enjoy the benefits of energy savings whilst paying for it at no upfront cost."
Bill Rumble, Chief Commercial Officer, Mark Group said:
"At Mark Group, we have four decades of experience installing home energy saving measures and are extremely excited about the prospects offered by the Green Deal. By signing the Memorandum of Understanding today we are not only showing our support for the Government's plans, but also our commitment to helping every homeowner across the UK to enjoy living in a more comfortable, more energy efficient home."
Adam Hewson, Director, ReEnergise Finance Ltd said:
"We believe The Green Deal represents an important element in the overall drive to reduce carbon emissions and improve the UK's overall energy efficiency. It is also a natural part of ReEnergise's business model - combining energy advice, project management and finance. Signing this memorandum of understanding is therefore a very sensible reflection of this strategy."
Richard Burnley, Managing Director Special Markets, SIG plc said:
"With such a high proportion of our existing housing stock failing to meet efficiency standards, we need a system that encourages homeowners, tenants and landlords to adopt a more holistic, 'whole house' approach to improving their homes. The Green Deal has the potential to bring this all together under a robust and flexible framework - and while there is still work to be done, we are very pleased to be signing this agreement and taking the next step on the road to achieving energy efficiency in our homes."
John Higgins, Finance Director, Stroma Group said:
"Stroma is extremely pleased to be signing the Green Deal MoU today and committing to assist DECC through this final phase as a 'pioneer' Green Deal Provider. We are delighted to be involved in this process, which will culminate in the introduction of this new and innovative financial framework later in the year. As an organization with energy and carbon reduction already at its core, all too often we see obvious opportunities for energy-efficiency improvement falter due to lack of funding. Green Deal will facilitate funding and avoid the need for consumers to pay upfront costs, allowing the right energy investment choices to be made."
Gary Bell, Director, Toriga Energy said:
"We are delighted to be one of the pioneer Providers preparing for the launch of the Green Deal. We have been fortunate to have been involved in much of the policy and process consultation and have been greatly impressed by the determination of DECC and MRASCo to create the structures required to make this scheme work. We are looking forward to helping make the Green Deal a success."
Rob Lambe, Managing Director, Willmott Dixon Energy Services said:
"In the UK we have become too used to living in cold uncomfortable homes with increasing numbers living in fuel poverty, under Green Deal, our strong tradition of home improvement will be able to readily combine aesthetics and function with increased warmth whilst protecting against rising fuel bills and climate change - a great business opportunity"
William Edrich, Chief Executive Officer, Yorkshire Energy Services CIC said:
"It is an honour to work with DECC be representing the SME's within the Green Deal Pilot. We have over 11 years experience delivering innovative and ground breaking energy efficiency schemes like the Green Deal and look forward to demonstrating our expertise in order to shape and model an effective Green Deal process. YES work within the local community and excel in the delivery of community based work. Our ethos as a community interest company is to invest profits made back into schemes to further assist communities and are committed to supporting the local economy."
Notes for editors:
A Green Deal guide for Providers has been published today providing step by step practical advice for organisations interested in becoming Green Deal Providers. It describes the route to Green Deal Provider authorisation and gives organisations an understanding of the on-going obligations that Green Deal Providers will need to adhere to.
Details of the companies:
Ampere GDP - Ampere GDP will offer the full Green Deal Provider Service, from EPC surveys, finance, through to installation. The customer will be allocated a Project Manager when they first enquire and they will guide the customer to completion of the Green Deal.
Anglian Home Improvements - Anglian Home Improvements is the UK's leading home improvements company with more than 45 years' experience in the replacement window and door sector. With an annual turnover of £210 million Anglian manufactures the majority its products at its Norwich HQ which are then sold and installed via a network of showrooms and installation facilities across the country. Anglian is committed to providing customers with the most energy efficient products on the market and has a robust policy for sustainable manufacturing and the safe and responsible recycling of all waste materials.
BritishEco - BritishEco is an installer of renewable energy solutions to homes, business and the public sector. It will be a Green Deal Provider expanding its current range of product offerings. It will be linking up with a Green Deal Finance provider to offer finance at competitive terms.
British Gas - British Gas is Britain's biggest energy supplier serving around 10 million homes. British Gas is also one of the UK's largest installers of energy efficiency products and last year installed over 400,000 insulation measures in its customers' homes helping them save energy and save money.
CarbonLow Group - CarbonLow Group is an East Midlands based company with an energy performance in buildings background and with particular expertise in the commercial sector. Its business model is to be a one-stop Green Deal Provider with in-house energy assessment and advice, and a sub-contracted supply chain. It is looking to advise commercial landlords and tenants of the benefits of upgrading their properties to make them more energy efficient and cheaper to run with very little upfront cost.
Carillion - Carillion Energy Services (CES) is a leading independent energy services provider and has a successful track record built up over more than 20 years of developing, managing and delivering commercial and residential energy efficiency improvements at scale. It is at the forefront of the low carbon economy and ideally placed to become a key Green Deal provider. As the energy services division of Carillion, CES is part of a multi-billion pound integrated support services company with extensive capabilities in construction and infrastructure projects. The Group employs around 45,000 people and operates across the UK, in the Middle East and Canada.
Empower Community - The purpose of Empower Community is to accelerate the transition to a low carbon economy by providing access to much-needed capital for community renewable energy and energy efficiency projects. It is designed to create a virtuous cycle of resource allocation for social and environmental benefit that encourages large-scale community participation, ownership and responsibility. While grass-roots, action-oriented responses to climate change continue to grow exponentially, the current limited access to finance is hampering the wholesale development and implementation of distributed energy solutions at anything like the scale or speed required. Designed by social enterprise - The
Omni Group (OMNI) - Empower Community is a rapidly scalable funding mechanism that balances the interests of all stakeholders by providing a high quality investment opportunity with attractive returns, reinvesting profits in further community projects and facilitating a community share in revenues and ultimate community ownership of assets.
Enact Energy (Enact) is a sales and management business providing renewable energy and energy saving services to a principally domestic market. Enact provides this service under its own brand name to the customers of Marks and Spencer and Tesco. Since setting up in 1996 Enact has been responsible for providing services into more than 400,000 homes comprising a mixture of loft and cavity wall insulation, solar photovoltaic (solar electricity) and thermal (solar hot water) systems and more recently boiler replacements and heating system upgrades. Enact operates out of a base in Cornwall where it runs a call centre and back office operations and contracts for the actual installation of systems to a national network of installers covering the different technologies.
E.ON - Over the coming weeks and months E.ON will continue to support the Green Deal, both through its role as a provider and as a partner in The Green Deal Finance Company, by implementing the learnings gained through Green Deal trials into full blown customer offers and bundles in October. For a number years now E.ON has been encouraging customers to use less - and lose less - energy. Through its Energy Fit campaign it has been tackling the big questions and providing customers with ways to better understand and reduce their energy consumption.E.ON has been working with partners in local government, social housing and charities like AGE UK and the RNIB to make sure that their members are aware of the offers and support available. For E.ON, the Green Deal can be seen as an additional incentive in offering energy efficiency measures to customers.
Gentoo Group - Gentoo is a people, planet and property business. As well as being a Social Landlord responsible for 27500 homes in the North East, it has a construction division with an energy efficient retrofit portfolio that includes MCS qualified Solar PV installers. It has experience operating large scale retrofit programmes, the latest project is a 1500 home Green Deal style Energy Saving Bundle scheme on its own housing stock. It intends to build on its existing service provision to become a Green Deal Provider and is confident in its ability to play a major part in the success of the initiative.
Grafton Group - Grafton is a builders' and plumbers' merchants business whose principal brands include Plumbase, Buildbase, Selco and Jackson Building Centres, with a network of branches across the UK.
Insta Group - Insta Group is a leading system designer for insulation, incorporating cavity wall, external and internal wall as well as loft insulation. Insta also operate the Snug Network, the UK's largest insulation installer network.
Keepmoat - Keepmoat is a national market leader in community regeneration and social housing solutions.
Kingfisher - Kingfisher is the leading home improvement retail group in Europe and Asia, operating over 950 stores in eight countries. Its consumer brand, B&Q is the market leader in the UK with 358 stores, employing over 30,000 people and serving over 7 million customers per week. Its trade brand, Screwfix has over 2.5 million SME customers in the plumbing, electrical, heating and insulation industries.
Mark Group - Mark Group is an international company which began insulating homes back in 1974. Today the Group helps over 7,000 homes become more energy efficient every week from 28 worldwide locations. Its services are tailored for individual home-owners, as well as builders, architects, local authorities, government bodies and commercial developers. Grants are available to many home-owners and Mark Group's dedicated team of surveyors and installers provide expert advice, service and customer care in helping home-owners access funds.
ReEnergise Finance - ReEnergise Finance is a local SME business based in the South East, providing advice, project management and finance for renewable energy and energy efficiency projects. Under the Green Deal its plan is to create a regional supplier of finance and project management infrastructure to support businesses, public sector organisations and charities in their own Green Deal delivery strategies.
SIG plc - SIG plc is one of Europe's leading suppliers of specialist construction materials, including insulation, exterior and interior products. SIG Energy Management, part of SIG plc, is a leading provider of energy management solutions, from energy use assessment and analysis through to installation of energy efficiency and generation products. Together, with SIG plc as an official Green Deal Provider and SIG Energy Management as an Assessor and Installer, the group will provide a one-stop-shop solution for Green Deal projects, working with private owners, social landlords and commercial partners.
SSE - SSE plc is one of the UK's leading energy companies, involved in the generation, distribution and supply of electricity and in the extraction, storage, distribution and supply of gas. Its core purpose is to provide the energy people need in a reliable and sustainable way. It supplies energy to over 10 million energy and home services customers throughout Great Britain and Ireland, is frequently ranked number one for customer satisfaction (by uSwitch.com, Institute of Customer Service, Consumer Focus) and is the UK's leading generator of electricity from renewable sources.
Stroma - Stroma Technology is a sustainability consultancy that takes a coordinated approach to energy reduction and compliance across the residential, commercial and public sectors. Its sister company, Stroma Certification, is already actively participating in the pilot accreditation project for certification of Green Deal Installers (GDI) and Green Deal Advisors (GDA); therefore, with its existing in-house IT and software development capabilities, Stroma is ideally-placed to develop and refine the systems necessary to operate and administer a Green Deal Provider scheme. Stroma and its Green Deal Provider partners will be able to offer impartial routes for certified Green Deal Advisors and Installers to participate within the Green Deal, particularly serving the SME sector. It will also offer an integral software, training and certification service for other Green Deal Providers. It believes its Green Deal offering will deliver a smooth operational process at all stages of the Green Deal Plan.
Toriga Energy - Toriga Energy is a startup business dedicated to delivering the Green Deal. By combining the knowledge and expertise of Industry Experts coupled with the innovative use of technology, it has developed an end to end Supply Chain solution that will deliver effective and efficient Green Deal Plans to the consumer.
Willmott Dixon Energy Services - Willmott Dixon Energy Services is part of a £1bn privately owned construction company with a strong track record in home and commercial repairs / planned works. It intends to provide Green Deal low energy retrofits in partnership with Registered Providers and Local Authorities to both social and private householders and commercial clients.
Yorkshire Energy Services - Yorkshire Energy Services is a Community Interest Company that is committed to reducing environmental impact and alleviating fuel poverty, recycling profits made back into community schemes to continue to save energy and help residents tackle rising fuel bills. Established in 2000, the company has grown from 4 employers to a well established SME of over 50 staff, winning contracts to deliver area based home insulation schemes on behalf of Hampshire County Council, Leeds City Council, Wakefield Low Carbon Communities, the award winning Kirklees Warm Zone and a pioneering loan for householders to invest in microgeneration within Kirklees (prior to the Feed in Tariff), Kirklees Re-Charge.
Published 4 April 2012