Green Deal: Edward Davey visits North East
Secretary of State Edward Davey visiting Biddick Hall estate in South Tyneside, where he was shown the technology used to refurbish non-traditional…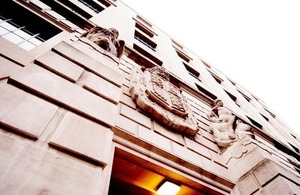 Secretary of State Edward Davey visiting Biddick Hall estate in South Tyneside, where he was shown the technology used to refurbish non-traditional houses
Secretary of State Edward Davey was in the North East on Thursday, 24 May to help spread awareness of the Green Deal.
He began his visit at St Gabriel's Church in Newcastle, where he met with local providers of energy efficiency measures as part of an Energy Awareness Day event. Among the organisations present were Carillion Energy Services, Rockwool, NPower, Age UK, Women Institute and Gentoo.
Many of these companies will be key players in delivering the Green Deal and Mr Davey was keen to hear their views on the opportunities and challenges the Green Deal presents.
As well as the benefits to consumers, such as warmer homes and lower emissions, Mr Davey also stressed the potential for the development of a vibrant innovative and successful new market, stimulating demand and creating tens of thousands of new green jobs.
He called on local companies, many of which are trusted and respected in their local communities, to become part of the Green Deal and help tackle climate change, renew neighbourhoods and to improve the quality of housing.
The next stage of the tour took Mr Davey to Newcastle Civic Centre. He took part in a roundtable discussion with Council chief executives on the Green Deal and Newcastle City's Council's pioneering Warm Up North scheme. The scheme, introduced in response to the forthcoming Green Deal aims to improve energy efficiency and reduce energy consumption, reduce carbon emissions, reduce consumer energy costs and alleviate fuel poverty and finally to create jobs.
From Newcastle Mr Davey next travelled to Biddick Hall estate in South Tyneside, where the Council is improving and upgrading 1,816 non-traditional homes.
Following the improvement works customers will see a reduction in their fuel bills, as the homes will be made more energy efficient through the installation of new heating systems, upgrading of windows from single to double glazing and internal and external insulation upgrades. Several local residents stressed that they are now saving between £200 and £250 a year on energy bills. These improvements could also reduce carbon emissions from these homes by up to 56%.
The estate has also become brighter and more attractive as the insulation upgrades will change the external appearance of the homes.
Having discussed the refurbishments with local residents the Secretary of State voiced how impressed he was by the scheme and by the what the council have managed to do with CESP and CERT money.
Further information
Published 28 May 2012