World news story
Greek British Shipping Forum, Athens 17 June 2013
The UKTI team in Athens in cooperation with Maritime London, organised the second Greek-British Shipping Forum in Athens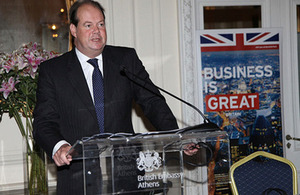 The relationship between Greece and UK in the shipping sector – particularly in the field of maritime-related services - has been traditionally strong and the UK is always keen to build on this cooperation, including through working closely on the competitiveness of EU shipping and global challenges.
The UKTI team in Athens in cooperation with Maritime London, organised the second Greek-British Shipping Forum in Athens on 17 June 2013. The conference was followed by open discussion and networking reception and took place at the British Residence.
Shipping remains one of the strongest sectors of the Greek economy. Despite the global economic downturn, Greeks remain at the top of the international league, as they control a fleet of 3,677 vessels (over 1.000gt), representing 14.87% of the world's carrying capacity.
Furthermore, Greek ship-owners were particularly active as regards Sale & Purchase in Q1 2013, having invested $4,25 billion in new-buildings and second-hand vessels, double than last year. This move is expected to further strengthen their position ahead of competition, when the industry starts to recover.
Stephen Hammond, Parliamentary Under-Secretary of State at the Department for Transport, travelled to Greece specifically for the occasion, to support the event and attend bilaterals in view of the Greek EU Presidency. The Forum was opened by the two Shipping Ministers, Stephen Hammond and Kostas Moussouroulis, as well as the British Ambassador John Kittmer. Thirteen UK companies presented their expertise on Ship financing, UK Ship Register, Risk & Crisis management, challenges, trends & opportunities in shipping today and had the opportunity to exchange views with over 120 delegates who attended the event. It was the first time that the London Stock Exchange addressed the Greek shipping community and invited them to consider the LSE as a stable, reliable and competitive source of financing.
The Forum was attended by shipowners and top level management/key decision makers within the most prominent shipping companies. Distinguished personalities such as Sir Efthymios Mitropoulos, ex-Secretary General of the IMO, George Gratsos, President of the Hellenic Chamber of Shipping, Jeremy Penn, Chief Executive of Baltic Exchange were also present and had the chance to exchange views with the two Shipping Ministers, the British Ambassador and many delegates.
Programme
Doug Barrow, Chief Executive - Maritime London: "London as a Global Maritime Centre"
Ship Financing – Options Today
Luca Peyrano, Head of Primary Markets Continental Europe
London Stock Exchange Group: "Accessing London's equity markets for funding growth"
Panel Session : Matt Hannaford, Partner – Clyde & Co Lilly Kotsana, Associate – Norton Rose
Luca Peyrano - London Stock Exchange Group
Tom Borland, National Director - Business Delivery Survey & Inspection Maritime & Coastguard Agency (MCA) - UK Ship Register : "Waving the Red Ensign"
Risk & Crisis Management
Emmanouel Vrentzos, Senior Consultant, Research & Technology - Control Risks : "Cyber-related risks in the maritime industry"
Mark Clark, Director – Navigate Response : "Managing a shipping company's reputation in the event of a serious incident"
Nick Milner, Director of Claims – Thomas Miller P&I Ltd : "Casualty response, a Club perspective"
Panel session : Emmanouel Vrentzos - Control Risks Mark Clark – Navigate Response Nick Milner– Thomas Miller P&I Ltd David Peel, European Manager – Rightship (UK) Ltd
Challenges, Trends & Opportunities in shipping today
Jeremy Penn, Chief Executive - The Baltic Exchange "Indices production, regulations & developments"
Stavroula Betsakou, Senior Tanker Analyst - ICAP Shipping "Major developments in the tanker market"
Panayiotis Mitrou, Senior Client Support Manager – Lloyds Register
"The LNG fuel Question"
If interested in any of the speeches above, please email: trade.athens@fco.gov.uk
Published 1 July 2013
Last updated 22 July 2013
+ show all updates
add image
First published.