World news story
GREAT UK food and drink products promoted at HO.RE.CA in Greece
British Ambassador visits British Beef stand and pavilions exhibiting UK food and drink products at Greece's HO.RE.CA exhibition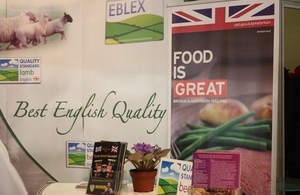 Food and drink is currently the UK's largest manufacturing sector and demand for British food and drink products overseas is growing fast.
During the 11 month period between January and November 2013 UK exports to Greece reached:
£56.3 million for beverages (+6.6% over the same period previous year)
£25.5 million for foodstuffs (+1.5% over previous year)
Opportunities
There are opportunities for a wide range of UK food & drink products in Greece including:
Breakfast products (cereals, confectionery and marmalades)
chutneys
sauces
snacks
alcoholic beverages and ready-to-drink (RTDs)
organic food & drink
flavoured water and soft drinks
HO.RE.CA exhibition
On Friday 7 February 2014, British Ambassador John Kittmer visited the stand of EBLEX-BPEX, the organisation representing the British beef, lamb and pork industry, at HORECA, one of the leading trade shows in Greece. He awarded a plaque to one of the top importers of UK meat in Greece, on behalf of EBLEX.
The British Ambassador stated:
I am especially pleased to have the chance to visit HORECA, and more specifically to attend the events organised at the EBLEX-BPEX stand, representing quality meat exporters from my country. I am impressed by the variety of exhibits and the number of visitors, which makes me believe that we can look forward to an even better year for business in this sector and Greek tourism in general.
The ceremony was followed by a meat tasting experience.
Ongoing support for UK food and drink exports
The Ambassador and UKTI Greece representatives also visited the stands of Greek importers of British food and drink products. They had the opportunity to view the goods on offer (RTDs, tequila-flavoured beer, coconut water, ale, whiskey, gin) and endorse the quality and success of UK products.
The GREAT brand was promoted with banners and posters at the EBLEX stand as well as at other stands hosting British products. UK Trade & Investment (UKTI) Greece provides ongoing support to existing UK brands in Greece as well as UK companies wishing to expand their business in the country. We welcome all business initiatives aimed at presenting distinguished British products to the Greek market by showcasing the very best of what Britain has to offer.
If you are a UK company looking to expand your business in Greece contact:
Department for International Trade Greece
British Embassy
Ploutarchou 1
106 75
Greece
Published 12 February 2014