World news story
GREAT Tech Rocketships initiative 2015
The GREAT Tech Rocketships initiative is a collaboration between TechHub and UKTI with support from iSPIRT.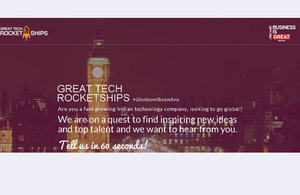 The GREAT Tech Rocketships initiative launched today, with a global call for ideas and submissions from entrepreneurs who want to change the world. The initiative is a collaboration between TechHub and UKTI with support from iSPIRT. Further support is also being provided by panelists from various world-leading organisations including the UK's Met Office.
This is an ambitious programme to seek out impressive emerging companies and ideas in India, the UK and around the world that have the potential to be fast growing 'Rocketships'.
The programme begins with a global call for ideas and submissions in the form of a 60-second video tweeted @TechHubBlr using the hashtag #IfNotNowThenWhen.
Entrants will be evaluated through the following filters:
retail technology
finance technology
data analysis and visualisation
emerging ideas - anything goes!
Those selected for their outstanding promise will then be invited to demo their product at one of the TechHub demo nights on 3 February 2015 in London, Bangalore or Boston. Further events will also be held in early February at venues across Chennai, Delhi, Hyderabad and Pune.
Through the TechHub demo night experience a number of companies will be selected to visit the UK and India as part of a UKTI delegation. Their visits will enable them to immerse themselves into the local technology ecosystems; meeting other entrepreneurs, identifying funding options and building product propositions to fit those markets.
For each of these companies, TechHub will provide a year's Flex membership to the founders enabling them to leverage the global TechHub network and support system as they move forward in their journeys.
Over the course of this process we will continue, as a catalyst to shine a light into all corners of the global tech ecosystem. It will strive to find the Rocketship founders no matter their, background or current stage of investment.
Elizabeth Varley, Co-Founder & CEO TechHub said:
This is an amazing opportunity for new products to be catapulted into the spotlight. I am very excited to see the innovative companies that are drawn together at TechHub over the next few weeks to be inspired through Rocketships to bring exciting new experiences to customers, disrupt markets, and to bravely change the world.
Sharad Sharma, Co-Founder and Governing Council Member iSPIRT said:
The Rocketships initiative is another significant step forward in the journey to create a product nation here in India. It is wonderful to collaborate with TechHub and UKTI to create such an amazing opportunity for gifted entrepreneurs.
Kumar Iyer, British Deputy High Commissioner, Mumbai & Director General, UKTI India said:
The UK is an increasingly preferred choice for fast growing Indian technology companies. India is one of the biggest investors in the UK. The UK's commercial environment is business friendly, has a low tax regime and offers benefits such as R&D credits and capital gains tax credits for entrepreneurs. Through the launch of our GREAT Tech Rocketships initiative, we invite the most promising, innovative, fastest growing Indian tech companies to the UK.
Further information:
TechHub is a unique environment where technology startups can start up and grow faster. We nurture an international network of like-minded and focused tech entrepreneurs, providing places where they can work, meet, collaborate, network, learn and have fun. By getting the right people together in a physical space, good things happen.

UKTI works with UK-based businesses to ensure their success in international markets through exports. We encourage and support overseas companies to look at the UK as the best place to set up or expand their business.

iSPIRT Foundation connects and guides software product entrepreneurs and catalyzes business growth. It's an enabler of a stronger ecosystem. We encourage buyers to improve performance by leveraging software products effectively. We advise policy makers on interventions that can set the industry on a higher growth trajectory. We are a not-for-profit industry think-tank founded by key participants and proponents of the Indian software product industry.
Stuart Adam, Head,
Press and Communications
British High Commission, Chanakyapuri
New Delhi 110021
Tel: 44192100; Fax: 24192411

Mail to: Deepti Soni
Follow us on Twitter, Facebook, Flickr, Storify, Eventbrite, Blogs, Foursquare, Youtube
Published 20 January 2015