News story
Great opportunities beckon for Scotland's communities
Scottish Secretary highlights community opportunities during visit to Kintyre.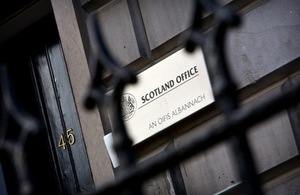 Opportunities within the community took centre stage when the Scottish Secretary Alistair Carmichael visited Campbeltown and the Kintyre peninsula today.
His day began by visiting Machrihanish Airbase. The former military site was purchased by a group from the local Kintyre community in 2012 and has since been transformed into a thriving business & aviation park. The airbase is also one of five shortlisted sites in the UK which are being considered as locations for the UK's first ever Space Port from 2018.
The Secretary of State also visited Campbeltown Picture House. The oldest continuously run, purpose-built cinema in Scotland still showing films is owned by Campbeltown Community Business Ltd who have worked over the past few years to safeguard its future. Earlier this year they were awarded over £409,000 from the Coastal Communities Fund.
The funding was allocated to place the restored Picture House at the centre of the town's regeneration and add contemporary facilities which will radically improve the audience experience and ensure the venue becomes a sustainable community-based business and cultural hub for the wider Kintyre peninsula.
Mr Carmichael said:
Giving power back to local communities across the length and breadth of the country has been a cornerstone of this Government. In Kintyre through Campbeltown Picture House and the Machrihanish Airbase I have seen some outstanding examples of local people working to create jobs and opportunities in their local community.

With further powers on the way to Scotland, determining how we make the most of the opportunities that are coming with greater devolution is crucial.

We will be able to make more choices which can reflect distinctive Scottish needs while keeping the safety, security and economic strength provided by being part of the wider UK.

These are major changes and it's important people understand what they will mean for them. The debate over how we use these new powers to benefit communities is something I want every part of Scotland to be involved in.
The Scottish Secretary also met with dairy farmers from the Kintyre peninsula to discuss the on-going challenges they are facing in the dairy sector.
Mr Carmichael added:
This was a valuable opportunity to meet with the local NFUS representative and other dairy farmers from Kintyre to find out first-hand the wider impact on the sector of the current volatility in the dairy market in one of our more isolated communities.

The UK Government is committed to doing all we can to help them. We are asking banks to support our dairy industry by taking a sympathetic stance with dairy farmers. We are encouraging more dairy producers to enter into long term contracts and we are pushing in Brussels for better Country of Origin labelling for our dairy products.

Even with these difficult times there are opportunities for our dairy farmers at home and abroad. With our work to open up new markets, dairy exports are at record levels topping £1.3billion last year, a 62% increase since 2009.

Equally however we are having to import huge quantities of dairy products such as ice cream, yoghurt and cheese into the UK. Scottish dairy products are among some of the very best quality in the world and this Government wants to encourage Scottish farmers to focus on being competitive, efficient and innovative to make the most of these opportunities.
Published 11 March 2015