World news story
GREAT British food and drink products promoted at Foodparade
UK food and drink companies look to boost their exports to Emerging Europe at Foodparade in the Czech Republic.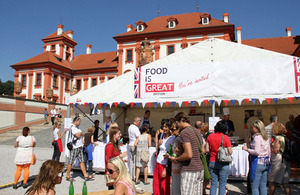 Emerging Europe is an increasingly important export market for British food and drink products. Exports of food and non-alcoholic drinks products to the region reached almost £400 million in 2012.
UK exports to the Czech Republic increased 6% last year, reaching £77 million. Growth continues into 2013 with exports increasing by 20% or more during the first half of the year for:
British meat

fish

dairy products

eggs
UK retail innovations in Czech market:
Prague is an important focus for UK innovations in the food & drink sector:
Tesco piloted its on-line shopping service here, before rolling this out across the whole of the Czech Republic and on to Poland, Hungary and Slovakia

Marks & Spencer has massively increased its fresh food product lines in 5 stores in Prague in an experiment that could also see more fresh British products available across the region
Foodparade
Foodparade is one of Prague's most popular food & drink open air festivals. The GREAT British presence at Foodparade, over the weekend of 7th to 8th September 2013, introduced almost 11,000 Czech visitors to the best of British food & drink.
16 British food and drink companies used the event to increase their exposure to:
leading Czech restaurant and hotel owners

food & drink distributors

food critics

bloggers
Our GREAT British kitchen served national favourites including Beef in Ale, smoked Scottish salmon and Sticky Toffee Pudding to over 900 people: roughly one a minute over the duration of the event (raising over £3000 for charity in the process).
The Ambassador (and Residence chef) took to the Foodparade stage in a live cookery demonstration, promoting a range of British brands in the process. Marks & Spencer provided ingredients for our kitchen, including two British wines – a Sauvignon Blanc and an English champagne – about to be launched on the Czech market.
The exhibition area provided tastings of a broad range of food & drink products including:
Aspalls English cider

Cathedral City cheddar

Yutaka's range of Japanese and East Asian ingredients

Tesco's Finest range; Grace Foods' cook-in sauces and beverages

Ramsden Food's confectionary and cereals

plus various other teas, biscuits, cakes and savoury snacks
The Czech Republic's most famous celebrity chef, Pavel Maurer, was impressed and indicated an intention to partner with UKTI Prague at a bigger Food Fair next year.
Emerging Europe made up of nine markets and over 100 million consumers offers major opportunities for UK companies.
Contacts
Contact UKTI Prague for assistance in developing your business in the Czech Republic.
Published 3 October 2013