Government response to the final report of the Independent Riots Victims and Communities Panel
Responding on behalf of the Government to the Independent Riots Victims and Communities Panel's final report, Secretary of State for Communities…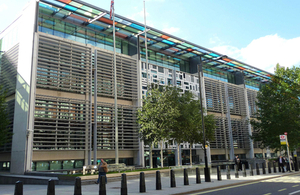 Responding on behalf of the Government to the Independent Riots Victims and Communities Panel's final report, Secretary of State for Communities and Local Government Eric Pickles said:
We welcome the final report from the Independent Riots Victims and Communities Panel. It is vital that in the aftermath of such serious and shocking disturbances we work to establish the deeper rooted causes behind the criminality. This is a thorough attempt to do that and I thank the Panel members for their work. We will look seriously at their findings and respond on those actions aimed at Government in due course. Many of the recommendations in the report are aimed at communities, local government, schools and the police and we would urge them to look carefully at the report.

Just as the Panel has established that there was no single cause of the riots, it is clear that there can be no single solution. But many of the recommendations in the report chime with this Government's clear ambition to give power back to communities, reform and join up public services and extend opportunities for young people.

My own Department's Troubled Families programme will tackle some of the most entrenched social problems in our country by getting members of 120,000 families off the streets, back into school and on a pathway to work. This Government has also embarked on radical reforms of welfare, education and criminal justice which are all aimed at addressing some of the deep-seated challenges facing some sections of society which are highlighted in the report. This includes action to reduce truancy; support for the important role that fathers play; and piloting changes in the criminal justice system to incentivise reductions in re-offending.

And of course we should not forget that the strength of our communities was shown not by the actions of a criminal few determined to wreak havoc but by the actions of the majority of local people who pulled together in the aftermath, cleaned up the mess and supported their neighbours to restore pride in the places they call home.
Published 28 March 2012