News story
Good progress made on welfare but more answers needed
Scottish Secretary David Mundell calls for Scottish Government to put people of Scotland first.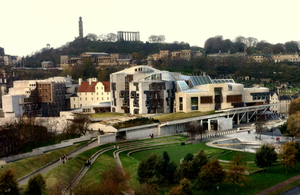 Scottish Secretary David Mundell has called on Scottish Government ministers to put the people of Scotland first – and work with the UK Government in a "shared space" on welfare.
Speaking after the latest meeting to discuss the transfer of a wide range of welfare powers from Westminster to Holyrood, as set out in the Smith Agreement, Mr Mundell said it was time to make clear exactly what the Scottish Government would do with those powers.
Discussions focused on employment support programmes, Universal Credit flexibilities and welfare provisions in the Scotland Bill.
The meeting was held at the Scotland Office, Dover House, Whitehall and was chaired by Mr Mundell with co-chair Alex Neil MSP, Scottish Government Secretary for Social Justice, Communities and Pensioners' Rights.
Mr Mundell said:
We have made good progress in devolving these powers, but the people of Scotland still need answers on what the Scottish government is going to do with them – and what the consequences of their choices would be for Scottish taxpayers, who will have to foot the bill.

The Scottish government say they want to do things differently from the UK government and soon they will have the powers to do just that. We are entitled to know what they plan, how much it will cost and who will have to foot the bill.

However, today was also a good example of Scotland's two governments working together and the arrangements for the transfer of welfare powers are well advanced.

This is a significant transfer of benefits worth more than £2.5 billion, so it is vital we get this right in order for the process to be as seamless as possible.

Welfare provision is going to become a shared space between the two governments and we have to work together.

That is the key to transferring these responsibilities in a sensible and orderly fashion and I am sure we will continue to talk in a collegiate and constructive manner.
Published 20 July 2015