News story
Going digital at the Parole Board
An update on the e-Dossier project at the Parole Board which aims to have paperless hearings by October 2017.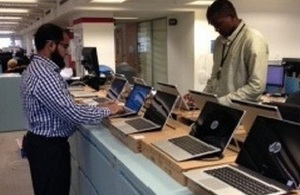 The Parole Board are undertaking a large project to overhaul the way we work, in line with our strategic objective of reducing the backlog due to constraints and ensuring more efficient ways of working.
As an organisation we have looked into new ways of electronic working. Previously, all dossiers for Parole cases (which average between 300-500 pages for reviews) were printed at our office in London and couriered out to Parole Board members around the country. This process was expensive, time consuming, and not environmentally friendly.
The E-dossier project was launched last year, with 17 members trialling the new system at first. This has now been rolled out to 176 members (85%), with the target of having 90% of the membership accessing their case information electronically by April 2017. We will be completely paperless for hearings by October 2017. At present 102 members are conducting completely paperless parole reviews across the country (50% of our entire membership).
The members have all been provided with a tablet laptop and access to the secure 'Web Access Module' to see their cases and download the dossiers. Project staff have worked closely with prisons to ensure access with the devices went smoothly at the prison gates, and have taken on board feedback from members to make improvements to the new system. The courier and printing cost savings that will come from this project alone mean 250 more prisoners will be able to have hearings each year.
The next steps of the project are to work with the courts and ensure our members who are current serving judges can access Parole Board dossiers through their digital judiciary accounts. We have our second cohort of new members joining our organisation in June 2017 and they will be trained to conduct paperless hearings right from the outset. Once they start to conduct parole reviews we will be a fully operational digital organisation.
Published 6 January 2017