World news story
Global Entrepreneur Programme (GEP) introduced in Chile
GEP presented the support that the organisation provides to help overseas businesses to globalise and establish in the UK.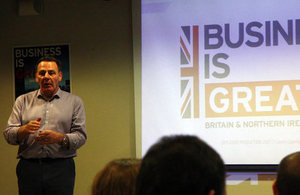 On Monday 7 November a workshop took place with more than 30 guests from the Chilean Entrepreneurial Ecosystem. The event held at the British Embassy was hosted by members of the Inward Investment Department and guests from the Global Entrepreneur Programme (GEP), Andrew Humphries (Dealmaker) and Derek Goodwin (Director). The main objective of the event was to present the work and support which the GEP provides around the world in terms of helping overseas businesses to globalise and establish their business in the UK.
The Global Entrepreneur Programme (GEP) helps overseas entrepreneurs and early stage technology businesses or start-ups that want to relocate their business to the UK. The programme has so far relocated 340 businesses to the UK, created over 100 jobs and raised over £1 billion of private investment for companies. The support is free and provides:
help to develop business plans
assistance with relocating to the UK
introductions to investors
guidance on how to grow internationally
mentoring from experienced entrepreneurs
continued help once located in the UK
Further information
For more information about this event, contact Constanza Alves, Inward Investment Advisor, Department for International Trade, British Embassy, Santiago.
For more information about the events and activities of the British Embassy in Santiago, follow us on:
Published 24 November 2016