Global award for Sellafield breakthrough
A groundbreaking scientific study by Sellafield Ltd into how intermediate level waste (ILW) behaves has been recognised in global chemical engineering awards.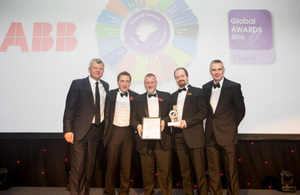 The research into waste at the Magnox Swarf Storage Silo (MSSS) – the most hazardous legacy storage facility on the Sellafield site – won the Process Safety category in the IChemE Global Awards in Manchester on 3 November.
Sellafield Ltd and National Nuclear Laboratory (NNL) won for their 4-year study on the viability and safety of storing waste from MSSS in 3m³ boxes.
The research centred on the long-term behaviour of the waste and the corrosion of magnesium and uranium. It confirmed that Sellafield Ltd could move from a 22-step mechanical treatment and encapsulation process, which would have required the construction of a multi-million pound plant, to a simpler and ultimately safer process where the waste is placed directly in a shielded box for storage for decades to come before final disposal in an underground repository.
It means waste retrievals at this top-priority facility will be accelerated by around 4 years.
The research is also paving the way for other nuclear waste material at the Sellafield site to be managed in this simpler and more fit-for-purpose way to accelerate hazard and risk reduction.
Published 7 November 2016