Press release
Glasgow Games goers urged to Bolt planning onto journeys from North
Drivers travelling through the north of England to get to Commonwealth Games events in Glasgow are being urged to plan their journeys.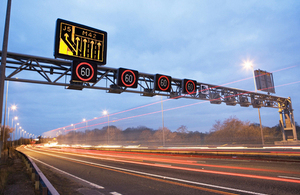 The 20th Commonwealth Games is being held in Glasgow between Wednesday 23 July and Sunday 3 August – with 40% of the 1 million tickets sold to people living in England, Wales and Northern Ireland.
Research by the Commonwealth Games organisers is also suggesting that many of those outside Scotland with tickets are prepared to spend up 2 hours travelling to events – basing themselves in towns and cities south of the border in the North West and North East of England and Yorkshire.
Highways Agency Events Planning Manager Phil Stockford said:
Given the numbers of people travelling to the Games from outside Scotland there is likely to be significant extra traffic on border routes over the fortnight.

We are not anticipating huge problems but we are doing a lot of work to ensure people have smooth journeys up the M6 and A1 routes into Scotland. Drivers can help themselves by planning ahead - including checking traffic conditions before setting off but also ensuring they and their vehicles are fit for quite long journeys up to Glasgow.

Along with Transport Scotland and the games organisers we are providing useful journey planning resources and we urge people to spend some time checking these out before the Games start.
The Highways Agency has been talking to Transport Scotland and Traffic Scotland about likely road issues over the games fortnight and extra Highways Agency traffic officers will be deployed on key routes like the M6 through Cumbria and the A1 and A1(M) in the North East.
The Agency has also instructed its maintenance contractors to avoid carrying out routine work along the M6 and A1 and A1(M). However, some overnight work is possible and drivers are being urged to check traffic conditions before setting out on journeys.
Highways Agency control centres along the M6 in Merseyside and M1 in West Yorkshire as well as the national traffic operations centres in Birmingham and at Queensferry near Edinburgh will be monitoring traffic conditions along English or Scottish routes throughout the Games with staff working with partners such as the police and other emergency services to quickly respond to any issues and keep drivers on the move.
The Highways Agency has a range of journey planning tools alongside official Games advice and information from Traffic Scotland.
The Highways Agency provides live traffic information via its website http://www.highways.gov.uk/traffic, local and national radio travel bulletins, electronic road signs and mobile platforms, such as the iPhone. Local Twitter services are also available at @HAtraffic_nwest and @HAtraffic_pen9 for Transpennine routes.
Providing they can do so safely, road users can also call the Highways Agency Information Line (0300 123 5000) to keep up to date with road conditions.
More information and advice about travelling around Scotland, Glasgow and specifically to games events is available is available at
Regular information, useful advice and live updates are also being provided now and right throughout the games from the Twitter feed @GamesTravel2014
General enquiries
Members of the public should contact the Highways Agency Information Line on 0300 123 5000
Media enquiries
Journalists should contact the Highways Agency press office on 0844 693 1448 and use the menu to speak to the most appropriate press officer.
Published 8 July 2014