News story
Glasgow at centre of new speed mentoring events for female entrepreneurs
Women and Equalities Minister Nicky Morgan announces £50,000 of new funding to create new networking opportunities for women in business from Glasgow to London.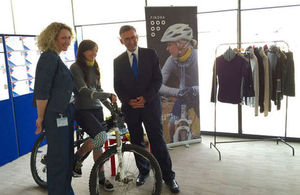 Aspiring Scottish businesswomen are being given the unique opportunity to gain valuable wisdom and support from experienced female entrepreneurs at a new series of UK wide networking events.
The Meet a Mentor sessions are designed to introduce businesswomen to potential advisers through speed mentoring, as well as giving them the opportunity to network with their peers and learn about other business support. Experienced entrepreneurs will have the opportunity to share their hard-earned wisdom and help nurture emerging business talent.
This year's programme of events, run by the Institute of Enterprise and Entrepreneurs (IoEE), follows the huge success of last year's events, which saw over 800 people register.
More than four-fifths of attendees formed a mentoring relationship, and it is estimated this could lead to about 5000 hours of mentoring time.
Nicky Morgan, Secretary of State for Education and Minister for Women and Equalities, said:
Women now run 20 per cent of our SMEs – a total of 1 million businesses – and we want to support even more to showcase their talent through entrepreneurship.

We know many women still feel less confident in their business skills than men. Mentoring can bring huge benefits by boosting confidence and building know-how and that's why I am delighted to announce new funding for these excellent events today.
The events will kick off in Newcastle on 22 September, with further events taking place in London, Birmingham, Leeds and Glasgow. The Scotland Office Minister Andrew Dunlop marked the announcement with a visit to Glasgow today, where he met Alex Feechan, who has been supported by mentoring experts at Entrepreneurial Spark in her cycling clothing business, Findra.
He said:
In the last few days, I have met people like Naomi Mitchison, the Young Woman Engineer of the Year, Jordan Conti at the Glendullan distillery on Speyside and Alex Feechan of Findra. They are fantastic examples to anyone to show that gender should be no barrier to pursuing whatever career you want.

Utilising the talents of successful female entrepreneurs across the country can help us develop an even more successful and balanced Scottish economy. We all need to work together to make sure they have every opportunity to play their part.
The government has also recruited over 15,000 small business mentors under the 'Get Mentoring' project, 42 per cent of whom were women. Mentoring forms part of a package of government support for female entrepreneurs, including an online tool to help female entrepreneurs assess their business skills and find training and support to fill any gaps.
Women play a vital role in the British economy. Equalising women's productivity and employment to the same levels as men's could add almost £600 billion to our economy. This could clear a third of our national debt.
Ruth Lowbridge, Executive Chair of the UK Sector Skills Body for Enterprise (SFEDI) and the IOEE said:
Every day we help business owners source mentoring support through our events, programmes and online business community, and it is evident to us that this form of support is absolutely critical in boosting confidence and enabling women owned businesses to achieve their potential.

Following the success of the last Meet a Mentor events, which supported over 500 women led businesses, we're hugely excited about our five new events, which will make a real difference to the start-up and success rates of those businesswomen attending.
Businesswomen seeking mentors and those wanting to share their knowledge and experience can sign up for the events free of charge here.
Published 17 August 2015