Giving something back through the Olympics
The Deputy Prime Minister has invited 14 guests to attend the opening ceremony of the London 2012 Olympics tonight.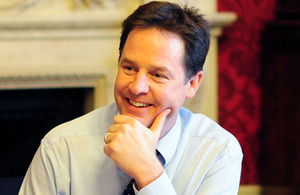 All the guests are people the Deputy Prime Minister has met over the last year and who have made a major contribution to society, their local communities, and the country.
The guests will all enjoy much-coveted seats for the ceremony, a once in a lifetime opportunity. Guests are as follows:
Kate Allatt, 42, charity campaigner from Dore in Sheffield and her husband. Following a stroke, Kate suffered from a little-known condition called locked-in syndrome. She has since made a dramatic recovery and launched a charity and written two books about the condition called 'Running Free' and 'Gonna Fly Now!'
Shabaz Ferozdin, Youth Manager, 35 from Reading, and a Youth Arts Worker from the Groundworks charity. The Deputy Prime Minister met them at the launch of the Youth Contract NEETs scheme at their youth centre The Hub in Peckham, South London.
Derek and Gill Towler, aged 65 and 61, unsung heroes of last year's riots from New Addington in Croydon. Derek and Gill opened up a community centre supporting up to 60 displaced residents.
David Johnston, 30, CEO of the Social Mobility Foundation and guest. David, who was born in Leytonstone, is tirelessly dedicated to improving social mobility in the UK, and has supported the Deputy Prime Minister's priority to open up opportunities to people from all walks of life.

Four military personnel from RAF Waddington, whom the Deputy Prime Minister met in November 2011 after their return from Libya:

Sergeant John Curwen (Army), 31
Flight Sergeant Mark Fort (RAF), 50
Flight Lieutenant Danny Mortimer (RAF), 33
Chief Technician Ian Davies (RAF), 44
Deputy Prime Minister Nick Clegg said:
I am absolutely delighted that through London 2012, I can give a little something back to a small but very impressive group of people who have done so much for local communities and our country.
Every day I meet inspirational people who give their all to good causes and for the benefit of others. I rarely get a chance to show them how grateful I am, how grateful we all are, for their dedication and selflessness.
I hope they all enjoy this once in a lifetime opportunity to enjoy the greatest show on earth.
Published 27 July 2012