World news story
Ghana Navy Officer awarded by Her Majesty Queen Elizabeth II for training excellence
A young Ghana Navy officer has been presented with an award by HRH the Duke of York for being the best amongst all International Officer Cadets.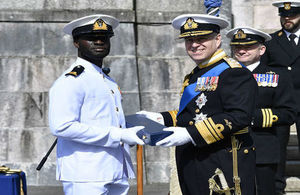 On Wed 12 April 2017, SLt. George Acquah of the Ghana Navy was presented with the prestigious Admiralty Prize by His Royal Highness the Duke of York , Prince Andrew at the Lord High Admiral's Divisions' Parade, which was conducted at the Britannia Royal Naval College at Dartmouth in the United Kingdom. SLt Acquah is the latest in a long line of Ghana Navy officers to have successfully completed their training with the Royal Navy. Only on this occasion, he was judged to also have been the best of all the International Officer Cadets to have completed initial officer training throughout the entire year.
In the citation for his award, SLt. Acquah was described as 'an officer who exudes a natural calmness, confidence and leadership style and who was academically outstanding. He has provided an example to all, and with a natural affinity for life at sea, he was considered to be 'thoroughly deserving of this award'.
With the UK having arranged for SLt. Acquah and his parents to travel from Ghana in order to attend the parade, he was presented with his award, which is a telescope personally gifted by Her Majesty Queen Elizabeth II, in front of around 800 families, friends and distinguished guests of those on parade. On completion of the parade and award ceremony SLt. Acquah was able to enjoy a special lunch at the historic British Naval College, where he was sat next to the Duke of York throughout. Only last week, SLt. Acquah was also presented to Her Royal Highness the Princess Royal, Princess Anne during her visit to Ghana; the Princess was very interested to hear of SLt. Acquah's award.
Commenting on his award, the UK's Defence Adviser to Ghana, Lt Col Simon Westlake of the Royal Marines said:
I am extremely pleased that we have been able to arrange for SLt Acquah and his parents to return to the UK to receive this award from the Duke of York. His is a significant achievement, as shown by the fact that the award is a gift from HM Queen Elizabeth II, and that it is was personally presented by the Duke of York at the Lord High Admiral's Divisions – itself a very historic event. This all demonstrates the significance with which the Royal Navy views this particular award. I believe that Ghana and especially the Ghana Navy can be very proud of SLt Acquah and his achievements. In fact, his success has led to 2 Ghana Navy officers being offered places at the Britannia Naval College this year – I look forward to them achieving the same level of success and to seeing SLt Acquah pursue a very successful career in the Ghana Navy. It is experiences and occasions like these that bound our two Navies so closely together and long may this continue.
Published 20 April 2017