World news story
Ghana joins the Open Government Partnership (OGP) in London
UK welcomes Ghana and eight other countries to the Open Government Partnership meeting in London.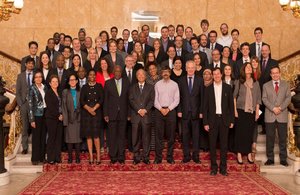 Sir Tim Berners-Lee, inventor of the worldwide web, will join UK Cabinet Office Minister Francis Maude to welcome Ghana and eight other new countries to the Open Government Partnership (OGP) meeting in London today.
The UK, current lead co-chair of the OGP, and the organisation's seven other founding countries, will listen to action plans from the nine new participants for increasing transparency to fight corruption and encourage growth. The new countries include Argentina, Costa Rica, Finland, Hungary, Panama, Trinidad and Tobago, Liberia and Ghana.
Commenting on Ghana's participation, the British High Commissioner to Ghana, Peter Jones, said:
"I am delighted that Ghana is entering the Open Government Partnership. This is an exciting opportunity to join a world-leading initiative, using transparency to improve standards of governance and to tackle potential problems such as corruption. Ghana already enjoys an enviable status as a beacon for democracy. Now it has an opportunity to help show the way on open and effective governance. I am very pleased that once again the UK and Ghana will be working shoulder to shoulder on such an important initiative, which seeks to deliver real benefits to our citizens."
''At the OGP Ministerial Steering Committee meeting, government and civil society representatives will discuss a new strategy for delivering the commitments in national action plans. They will also look at progress on measures to sharpen accountability, including discussion of countries' action plan commitments. Over the coming months, these will be scrutinised by a high-powered International Expert Panel on which former Irish President Mary Robinson, Sudanese-born British entrepreneur Mo Ibrahim, and Mozambican politician Graça Machel are senior advisers.''
UK Cabinet Minister, Francis Maude, who will chair the meeting, said:
"In just 18 months, the OGP has grown into a global movement of 58 countries. Now we must cement the credibility of the OGP as an international force for change by deepening engagement with existing participants and turning promises into actions.''
"Transparency is a tool for reformers all over the world. The best way to make the OGP transparency message stick and encourage more countries to join, is to show how openness empowers citizens and improves their lives; and to make ourselves accountable if we fail to live up to our promises. Once people see the advantages of transparency, the democratic impetus for open government will be irresistible, and there will be no turning back."
The OGP is encouraging the adoption of open data initiatives in participating countries. At a reception for the OGP today, Sir Tim Berners-Lee, founder of the World Wide Web Foundation, will launch the first in-depth study of how open data can be harnessed to foster better governance and provide better services in developing countries.
"Exploring the Emerging Impacts of Open Data in Developing Countries" (ODDC) grew out of discussions at the OGP in April 2012; and a progress report will be given at the OGP summit in London in October.
Sir Tim Berners-Lee said:
"Open Data, accessed via a free and open web, has the potential to create a better world. However, best practice in London or New York is not best practice in Lima or Nairobi. The World Wide Web Foundation's research will help to ensure that Open Data initiatives in the developing world will unlock real improvements in citizens' day-to-day lives. It was at the OGP plenary in Brasilia last April that the ODDC project was born. It is fitting that, just 12 months on, we are here in London to launch our initiative at another milestone OGP event."
The Open Government Partnership was formally launched in September 2011 by the eight founding governments (United Kingdom, Brazil, Indonesia, Mexico, Norway, Philippines, South Africa, United States). It is a multilateral initiative which aims to secure concrete commitments from governments to promote transparency, fight corruption, and harness new technologies to strengthen governance.
Published 26 April 2013