Press release
Get involved: A14 Cambridge to Huntingdon web chat 1pm to 2pm, Tuesday 29 April
As the consultation on the vital improvements to the A14 gathers pace, members of the public are being given the chance to quiz the Highways Agency in the comfort of their own homes or during their lunch breaks via two live web chats.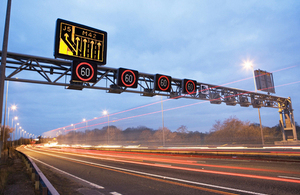 The existing A14 between Cambridge and Huntingdon carries almost 85,000 vehicles a day; significantly more than it was designed for, resulting in congestion and delays.
On 7 April, the Highways Agency opened a ten week consultation for the £1.5 billion scheme to improve the 25 mile stretch, which includes the A14 and a section of the A1, relieving congestion and improving safety.
The first live web chat is on 29 April from 1pm to 2pm with a second taking place on 4 June from 4pm to 5pm. It will be accessible by going to the A14 web chat People can submit their question in advance by emailing A14CambridgeHuntingdon@highways.gsi.gov.uk or they can register and talk to the Agency live on the day via the website.
Mike Evans, Highways Agency senior project manager on the A14 scheme who will be hosting the first web chat, said:
Although road building dates back thousands of years, there's no excuse for not moving with the times and using up to date technology to engage with the public on important issues.

We have a multi-faceted and proactive approach in our efforts to consult with as many and as diverse a group of people as possible and 21st Century digital engagement is a vital part of that mix.

We will start the session off with some questions that have been submitted prior to the event, just to get the ball rolling.

Although the content of the web chat will not form part of the formal consultation, we hope that the public will find it a useful way to get answers to their questions, which could help shape their response to our consultation.
Ahead of the web-chats information is available on the Agency's website
Anyone wishing to contribute to the consultation can do so by completing the online survey, a link is available via the above site. Details of the public exhibitions being held during the consultation period are also available online.
General enquiries
Members of the public should contact the Highways Agency Information Line on 0300 123 5000
Media enquiries
Journalists should contact the Highways Agency press office on 0844 693 1448 and use the menu to speak to the most appropriate press officer
Published 25 April 2014