Geography in Government Annual Conference 2020
Summary of the Geography in Government Annual Conference 2020 which took place online between 7-11 December 2020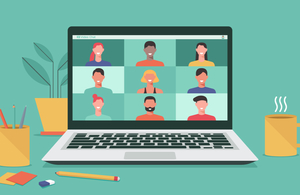 It was fantastic to see over 200 of our members join for the Geography in Government Annual Conference which took place online between 7-11 December 2020. The conference gathered members to network, share best practice and professional development opportunities.
The conference delivered a mixture of plenary and workshop sessions and explored the real breadth of work undertaken by members of the Geography Profession, right across the public sector. 2020 was a challenging year for all, but it was inspiring to see just how far the profession has come over the past year and how we can continue into 2021.
In a plenary on the diversity of geography in the public sector, we explored how geography and geographical approaches are being adopted across government, with the profession and its members spearheading this drive.
Further plenary sessions took place on responding to national emergencies, where geography as a critical tool in understanding, reacting to, and planning for recovery from unprecedented incidents and emergencies was discussed, as well as on future trends where delegates were able to hear about the technology, data and skills demand that may shape the future work of the profession.
During the course of the week, the conference also hosted interactive workshops. The Geospatial Commission hosted a workshop for members to learn more about increasing demand for geographical awareness in government. And a Professional Development and Support workshop was held to explore the frameworks available to geographers in government where guidance and training was discussed.
David Wood, Head of the Government Geography Profession said:
I would like to thank everyone who contributed their time in helping make the event such a success, from our chairs and speakers who put on such engaging talks to everyone who helped organise and run the conference and of course everyone who attended and partook in the stimulating table discussions. It was great that I was able to announce the winner of our logo competition when closing our first conference since we became a standalone profession and my congratulations and thanks go to Sarah Cashon at the Environment Agency for her creative approach of putting GGP into geography!
Clare Hadley, Deputy Head of the Government Geography Profession said:
The virtual Conference brought together geographers from across the public sector to discuss how the profession is developing and the critical importance we play in the issues of the day from response to emergencies to future trends in data use. The acknowledgement of how important geography is in tackling the pandemic has made me proud to be a member of the Profession.
Look out for more Geography Profession activity in 2021!
Published 21 January 2021