World news story
Garuda chooses London Gatwick to connect the UK non-stop to Indonesia and South East Asia
The first non-stop Jakarta-London flights will open in Q4 2013. Direct links will boost economic activities in both directions.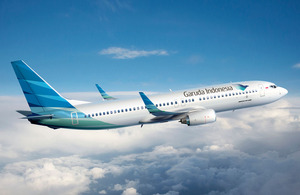 Garuda Indonesia – the national airline for Indonesia – announced today that it has chosen Gatwick to operate direct flights between London and Jakarta, one of South East Asia's largest hub airports. This will make Gatwick the only UK airport to connect passengers directly to the largest economy in South East Asia.
From the 4th quarter of 2013, business and leisure passengers will be able to fly direct between Indonesia and the UK six times per week. Garuda Indonesia will operate Boeing 777-300 Extended Range aircraft capable of carrying over 300 passengers. The UK is now one of the largest markets to Indonesia with 160,000 people currently travelling to the region on business and leisure (source: Based on 2011 MIDT data).
Indonesia is an increasingly important market for the UK. Bi-lateral trade is growing and in April 2012, during Prime Minister David Cameron's visit to Indonesia, a partnership commitment to double trade (goods & services) by 2015 to £4.4 billion was announced. This new direct route will boost business activities between the two countries and help towards meeting that bi-lateral trade commitment.
Prime Minister David Cameron said:
We want to link Britain up with the world's fastest growing economies. And good air links are a vital to achieving that. This new route from London to Jakarta is good for British business and will help them to compete in the global race.
Gatwick's Chief Executive Stewart Wingate said:
We are delighted that Garuda Indonesia has chosen Gatwick to operate this vital direct route. Despite being a crucial high growth business market for the UK, Indonesia has been underserved with no direct routes to the region from the UK – until now. Jakarta is also a major hub airport for South East Asia, giving UK passengers even more access and choice to the region.
Whilst the UK is one of the best connected countries in the world, we do need more direct links to key markets such as Indonesia. At Gatwick, we're playing our part by investing in the airport and, with our airlines, opening new routes to growing economies such as China, Russia, Turkey, Vietnam and now Indonesia. We look forward to welcoming Garuda Indonesia later this year.
Garuda Indonesia's President and CEO, Emirsyah Satar, said that the new Jakarta-London direct flight will complement the existing Jakarta – Abu Dhabi – Amsterdam route, as part of the airline's Quantum Leap 2011-2015 programme to develop the international network and become a 'global player'.
Emirsyah Satar said:
This flight will be more convenient since it will be serving passengers - non-stop - from Jakarta to London with the brand new B777-300ER, which will be equipped with Wi-Fi and a chef on board for First Class passengers. We chose Gatwick, London as the UK airport because of its convenience and good network and accessibility options into Europe and beyond.
The Jakarta – London direct flight is also expected to open up direct access from South East Asia to Europe and vice versa. In addition to the new London route, this year the airline will also open new Auckland and Brisbane routes. Garuda Indonesia has also expanded its flight network to Europe through codeshare agreements with other international airlines, including Etihad Airways, which enables passengers to fly into 7 major cities across Europe.
The Indonesian Ambassador to the UK, H.E Teuku Mohammad Hamzah Thayeb, has welcomed the initiative of Garuda Indonesia to resume the Jakarta – London route in the 4th quarter of 2013.
This route will certainly increase passenger and cargo traffic - not only between the two countries - but also from Europe to Indonesia and likewise in return. With the increased business and tourism to Indonesia, it will not only help to improve the growth of the economy between Indonesia and UK, but also the overall relationship between the two countries.
Notes to editors
Gatwick Airport is the UK's second largest airport and the busiest single-runway airport in the world. It serves more than 200 destinations in 90 countries for around 33.8 million passengers a year on short- and long-haul point-to-point services. It is also a major economic driver for the South-East region, generating around 23,000 on-airport jobs and a further 13,000 jobs through related activities. The airport is 28 miles south of London with excellent public transport links, including the Gatwick Express. Gatwick Airport is owned by a group of international investment funds, of which Global Infrastructure Partners is the largest shareholder.
Published 2 February 2013