News story
Galileo taking flight: Ten satellites now in orbit
Europe's own satellite navigation system has come a step nearer to completion.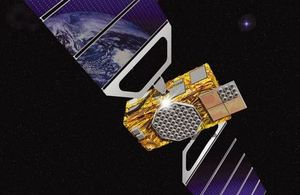 Galileo 9 and 10 which lifted off together at 02:08 GMT on 11 September from Europe's Spaceport in French Guiana, atop a Soyuz launcher.
The deployment of Europe's Galileo system is rapidly gathering pace" said Jan Woerner, Director General of ESA.
By steadily boosting the number of satellites in space, together with new stations on the ground across the world, Galileo will soon have a global reach. The day of Galileo's full operational capability is approaching. It will be a great day for Europe.
Two further Galileo satellites are still scheduled for launch by end of this year. These satellites have completed testing at ESA's ESTEC technical centre in Noordwijk, the Netherlands, with the next two satellites also undergoing their own test campaigns.
More Galileo satellites are being manufactured by OHB in Bremen, Germany, with navigation payloads coming from Surrey Satellite Technology Ltd in the UK, in turn utilising elements sourced from all across Europe.
Next year the deployment of the Galileo system will be boosted by the entry into operation of a specially customised Ariane 5 launcher that can double, from two to four, the number of satellites that can be inserted into orbit with a single launch.
About Galileo
The UK is playing a vital role in both the policy and the technical development of Europe's global navigation satellite system. Galileo is owned by the European Union, with the European Commission as programme manager and the European Space Agency (ESA) acting in partnership as the technical design and procurement authority. Galileo's key differentiator from other similar systems is that it is a civil system under civil control.
Designed to be inter-operable with GPS, the US global satellite navigation system, receivers that are equipped with the right chipsets will, in future, be able to utilise signals from both systems to provide a more accurate and reliable global positioning service than by using GPS or Galileo alone.
Learn more about UK involvement in Galileo.
Published 11 September 2015