Futures Congress with large presence of UK experts in Chile
Ten British experts participated as guest speakers in Chile's successful fifth version of the Congress organised by the Chilean Senate.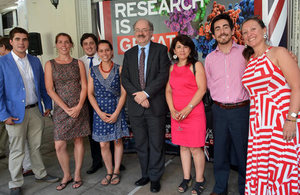 Over one hundred world leading scientists and thinkers participated between 24-29 January in the fifth version of the Futures Congress that ran both in the Chilean capital and across the country.
At the event, the UK had the largest presence, both in proportion of speakers and in highlighting the range of expertise. British speakers covered both global challenges and changing society, showing how science and technology impacts on, and informs, our understanding of climate change and energy, epidemiology and health, future cities, transport, food and nutrition, as well as human behaviour, social change and economic development.
As well as experts' participation in the main conference, the Embassy organised seven side events for our British experts to access opinion formers and business on climate change and post COP21, science and the media, science and ethics, and developments in the health sector. Sir Mark Walport, Government Chief Scientific Advisor, also gave a talk about 'Science as an instrument for change' that attracted an important audience and subsequent media coverage.
The Embassy also organised a networking event at the British Residence that was attended by members of the scientific community, academia, Government representatives, MPs and other speakers invited by the Chilean Senate. We used the event to showcase UK-Chile collaboration in science and innovation through visual displays of the projects financed to date by the Newton-Picarte fund.
The networking event and the side events organised in the margins of the Futures Congress, as well as the presence of British experts at the Futures Congress was possible thanks to the funding of the GREAT campaign, the global British Government's initiative to support activities aimed at showing the best that the UK has to offer to the world.
Further information
For more information about the British participation in the Futures Congress, please contact Angela Viola-Glapinska, Newton-Picarte Fund Manager, British Embassy, Santiago.
For more information about the events and activities of the British Embassy in Santiago, follow us on:
Published 12 February 2016