World news story
Future Health holds 10th anniversary reception in Jordan
On April 25th, HMA Edward Oakden hosted a reception to celebrate the tenth anniversary of Future Health's entry into the Jordanian market.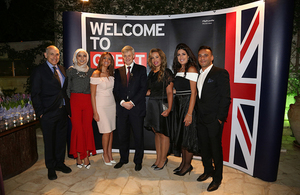 Speaking at the event, Ambassador Oakden said:
Jordan leads the region in providing the highest quality private healthcare. The UK is home to four of the world's top ten universities in the field of health. This is an area in which both our countries are very strong, and have a natural affinity. In healthcare in particular, and the economy more generally, the UK strongly supports initiatives that stimulate economic growth and create jobs for hard-working Jordanians, which are key to Jordan's long term economic sustainability. Companies like Future Health are a great example of how British innovation, partnered with Jordanian local expertise and excellence, can bring benefits to both our countries.
Also speaking at the event, Mr Nicolas Linardos, Chairman of Future Health, said:
Jordan is a key market for Future Health and we are very pleased to have an excellent local partner in Abtech. Together we have become the market leader in this country which has been our base of operations to allow us to access further markets in the GCC and further afield.
Mrs Ruba Al-Ahmad, Future Health's Sales and Marketing Manager in Jordan, said:
We are so proud of the fact that, ten years since we began operating in Jordan, we have received more UK accreditations and licenses than any other company in our field. Stem cell treatment is a growing market: over a million transplants have now been performed across the globe and 1300 clinical trials are currently underway.
Background Information:
Future Health is the largest company of its kind in the UK, offering stem cell banking services as well as diagnostic tests. In partnership with local firm Abtech, it began operating in Jordan in 2007.
Published 1 May 2017