News story
Funding available for student placements
The UK Space Agency is offering grants of up to £3,000 for organisations to take on graduate or postgraduate students for work placements in the space industry.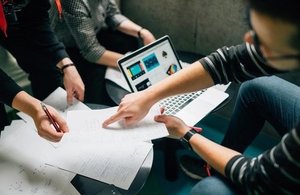 The funding from the Agency's Space Placement in INdustry (SPIN) scheme, is for Earth Observation projects at small and medium size businesses, universities, charities, not-for-profit or government agencies within the space sector.
There is a total of £30,000 funding available, with a maximum of £3,000 for each award.
The aim of the scheme is to fulfill the skills and careers objectives of the UK Space Agency education programme, as set out in its Education, Skills and Outreach Strategy. This in turn supports the aims of the UK Space Agency by providing a context for students to experience the breadth of opportunities that the sector can offer, developing skills crucial to the success of the sector, supporting the growth of businesses within the sector and raising awareness of the UK's space programme and STEM subjects in general.
What projects are suitable?
Your project may be targeted at a student or graduate of a specific discipline, or simply describe the skills you are looking for. It should outline a piece of work or role which will take a minimum of 8 weeks and be designed to enhance the skillset of the successful applicant whilst providing them with a business context in which to apply their skills. Projects submitted for this round of SPIN funding should have an Earth Observation focus.
The placement will vary from organisation to organisation and may involve:
a piece of research or a small project that would otherwise not be done
working as part of a team on a product or client-focused project, or something more independent
Placements may be extended beyond 8 weeks, by mutual agreement between the host organisation and the successful applicant.
We anticipate the following schedule:
opening of award scheme – 22 January 2018
deadline for placement proposals to be received – 5pm on 30 January 2018
panel meeting 31 January 2018
projects to be advertised to students on the SPIN website for no more than 2 weeks
successful applicants to be notified no later than 21 February 2018
placements to be started no later than 7 March 2018
invoice to be submitted no later than 12 March 2018
This file may not be suitable for users of assistive technology. Request an accessible format. If you use assistive technology (such as a screen reader) and need a version of this document in a more accessible format, please email enquiries@bis.gsi.gov.uk. Please tell us what format you need. It will help us if you say what assistive technology you use.
You will receive a notification of your application being accepted within 48 hours of sending. If you do not receive this, we have probably not received your application.
Published 22 January 2018