World news story
Fundamental rights debated in Macedonia
British Embassy supports debate on fundamental rights within programme assistance to Macedonia.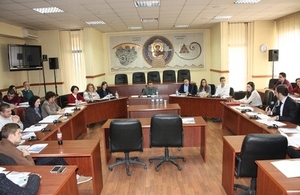 Underlining the importance to uphold human rights and freedoms as well as accepting the responsibility in exercising them was the main theme of the moot court debate on freedom of religion vs the freedom of expression, organised as closing event of the two year programme assistance carried by the British Embassy in Macedonia.
Speakers at the debate were students from the Law Faculty in Skopje, with the support of the Macedonian Centre for European Training and the legal expertise of Macedonian law professors and judges.
Our ambassador Charles Garrett officially opened the event along with the president of the Macedonian Centre for European Training, Andreja Stojkovski.
Ambassador Garrett said:
There will be times when freedom of expression and religion come into conflict. And always it is clear that, as globalization continues to bring different peoples, different cultures, into increasing contact with each other, these moments of conflict – at least in the short term, will become more frequent. It is of course the role of the international human rights norms, as implemented by states, to ensure that these rights are appropriately balanced, so that neither is inappropriately sacrificed. But we cannot leave it all to states and supranational bodies: it is also the responsibility of individuals to allow sufficient space for the right balance to be found.
The project Fundamental Rights – Fitting into the European Framework was implemented from the summer of 2013 until March 2015 by the Macedonian Centre for European Training with the support of the British Embassy in Macedonia through the Diplomatic Influence and Values – Reuniting Europe funds of the Foreign and Commonwealth Office.
British Embassy Programme Assistance
Connect with us on Facebook or follow us @ukinmacedonia
Connect with the British Ambassador on Facebook or @BritAmbCGarrett
Read our UK in Macedonia blog
Published 14 March 2015