World news story
Freedom of expression in a nutshell
The British Embassy in Skopje supports capacity building for Macedonian judiciary in the area of freedom of expression.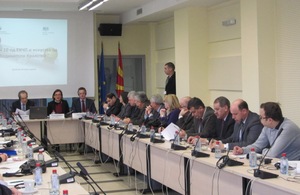 Freedom of expression and the importance of Article 10 of the European Convention on Human Rights was at the centre of training delivered for the judiciary in Macedonia with the support of the British Embassy.
The training was delivered by Lord Jonathan Mance, Lord Justice at the Supreme Court of the United Kingdom. The seminar took place at the beginning of March at the Academy for Training of Judges and Prosecutors in Skopje under the title "Freedom of Expression and Implementation of Article 10 of the European Convention of Human Rights in National Jurisprudence."
British Ambassador to Macedonia, Christopher Yvon, spoke at the official opening of the seminar along with Director of the Academy, Judge Aneta Arnaudovska. In his address ambassador Yvon said:
In the United Kingdom public debate has recently been concerned with questions concerning broader aspects of ethics in journalism, whereas in Macedonia the principal focus is on specific concerns around the freedom of expression and how this can best be enhanced and protected. I hope that with this training you will come to a deeper understanding of Article 10 of the European Convention on Human Rights, its interaction with other Convention rights and how this can build up a picture of balanced legal protections. I would like to congratulate the Academy of Judges for its investment in strengthening the capacities of the judiciary and to express my gratitude to Lord Mance for generously offering his expertise and experience.
This project comes within a broader UK programme of support for Macedonia's harmonisation with EU standards.
Published 22 March 2013